BELGIUM
FLANDERS
DOMAINE LA BUTTE AUX BOIS
| | |
| --- | --- |
| Experience | The cultural mecca of Flanders |
| Segment | Cool culture |
| Rating | 5-star superior |
The cultural mecca of Flanders
My first impression is that Flanders may be small, but it is perfectly formed. Antwerp, Ghent, Hasselt, Leuven and Ostend are all easily accessible by car or public transport, making it straightforward to discover the highlights of this heritage-rich patch of land. Art, culture and delicious food and beer are just a stone's throw away, and everywhere I look there is evidence that Flanders has had a major impact on the international art scene since the Middle Ages. The small region will commemorate some of its influential artists – Van Eyck, Bruegel and Rubens – with a programme of themed events throughout 2019 and 2020.
Antwerp –
Rubens' mecca of art
The Flemish capital of art and fashion is inextricably linked with Peter Paul Rubens (1577 – 1640). As I explore Antwerp, it holds myriad tangible reminders of the 'painter of muses'. Rubens spent his life here, creating world-famous masterpieces and cementing his reputation as the most important painter of his day – and one of the greatest of all time. I sense Rubens' presence wherever I go: his statue dominates Groenplaats square, and more than 50 of his works are on display in various museums and churches, often in the surroundings for which they were created. I've scheduled some time to follow in the footsteps of the greatest Baroque icon with visits to Rubens' house, garden pavilion, studio and grave, the Rockox House (a treasure trove of Baroque art), the Plantin-Moretus Museum (a UNESCO World Heritage Site), the Cathedral of Our Lady, St. James' Church, St. Charles Borromeo Church and St. Paul's Church.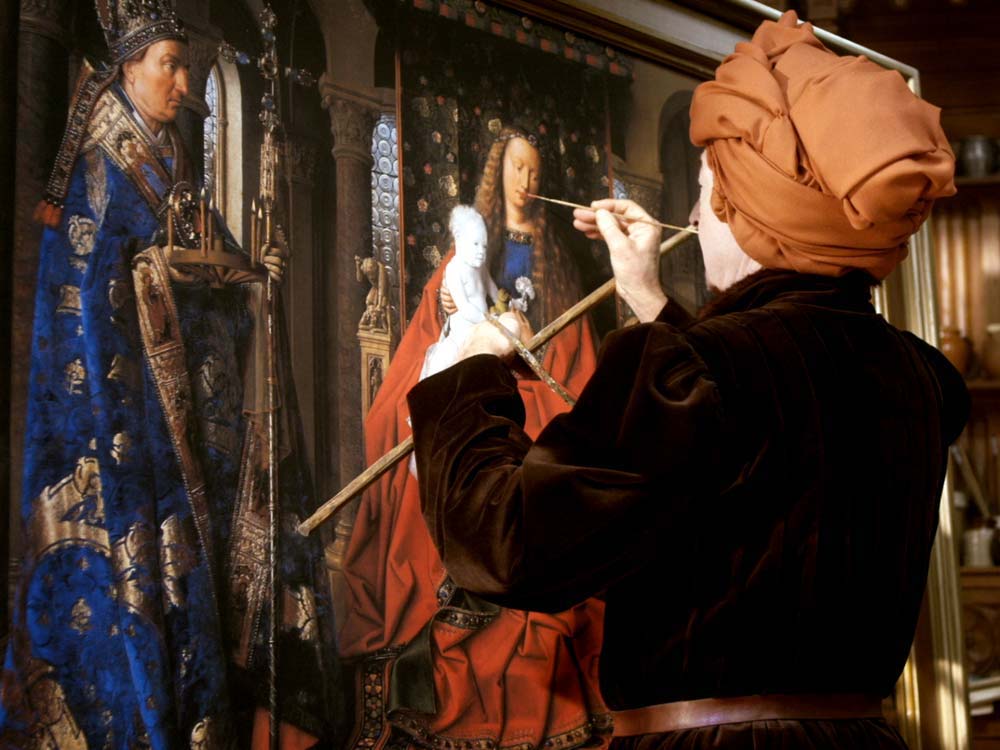 Rubens tips for autumn 2019
Opening of the brand new, ground-breaking Rubens Experience Centre.

'Designed by Rubens' exhibition opening in the Rubens House, Antwerp.

Reopening of the Royal Museum of Fine Arts Antwerp (KMSKA).
2019: the 450th anniversary of Bruegel's death
An impressive series of exhibitions and events in Flanders this year marks the 450th anniversary of Pieter Bruegel's death, celebrating the life, times and work of this exceptional, imaginative artist. He fired the imaginations of both his own generation and those that followed. Living first in Antwerp and then in Brussels, he is largely responsible for developing the Flemish national mentality – and their collective self-image as hard-working but fun-loving people!
Bruegel's tips for 2019
Bruegel event series in Brussels: Royal Library of Belgium, Royal Museums of Art and History, Centre for Fine Arts (BOZAR) and in the rural, green surroundings of Gaasbeek Castle, Sint-Anna-Pede and the domain of Bokrijk.

Opening of the new Bruegel visitor centre in Brussels in autumn 2019.

Bruegel exhibitions at KMSKA (Antwerp) and in the Museum Mayer van den Bergh.


The Van Eycks' cultural treasure
Since its completion in 1432, millions of people from around the world have visited Ghent to marvel at the Ghent Altarpiece by Jan and Hubert Van Eyck. The 'Adoration of the Mystic Lamb' has suffered more threats and enjoyed greater adoration than any other artwork – over the years it has disappeared during several wars, been lost, endangered by fire, dismantled, copied, smuggled, censored, attacked by iconoclasts, rescued and stolen over and over again. Measuring 4.40m x 3.40m, this winged altar is one of the world's greatest cultural treasures. But the location of the stolen side panel remains a mystery… and the hunt continues! I spend some time watching the restorers at work at the Museum of Fine Arts (MSK) in Ghent – the altar will return to its ancestral home in St. Bavo's Cathedral at the end of 2019.
Attention, fashionistas and shopaholics!
Antwerp has been a fashion leader for over three decades, and is one of the ten most fashionable destinations worldwide! With its conceptual and avant-garde taste, the world-renowned MoMu fashion museum and a constant stream of new talent from the Faculty of Fashion at the Royal Academy of Fine Arts, Antwerp has earned itself a reputation as a capital of fashion. Again and again throughout my trip, I come across original outlets stocking high fashion, vintage and avant-garde pieces, funky pop-up shops, flagship and concept stores and boutiques carrying top designer and fashion labels. Less than an hour's drive from Antwerp, I indulge in a little retail therapy at Maasmechelen Designer Outlet Village – home to around 100 Belgian and international prestige and luxury brands.
Kitchen rebels & food ambassadors
Flanders is an absolute gourmet hotspot, the only place in the world with more than 100 Michelin-starred restaurants and many up-and-coming young chefs. The Flemish really know how to use regional treasures in their cooking! The next generation of chefs are bringing innovation, creativity and a dash of rock'n'roll to the table.
Food recommendations
MARTA Antwerp speciality market (first Saturday of the month from March to November).

Hapje-Tapje culinary feast in Leuven, 4 August.
Belgian beer culture
Even UNESCO has recognised the unique and diverse qualities of Belgian brewing. Belgium has 1,500 different beers, most of them produced in small quantities according to local recipes and authentic methods. It's no wonder that beer culture is nurtured and cherished throughout the country with tastings, training courses and numerous events and festivals. Cheers!
Beer events
Bierpassie Weekend Antwerp, 28 – 30 June.

Belgian Beer Weekend Brussels, 6 – 8 September.

Modeste Beer Festival Antwerp, 5 – 6 October.