Essaouira is situated on the Moroccan Atlantic coast, a two hour's drive from Marrakech, two and a half hours from Agadir and five hours from Casablanca.
Local time and climate: CET -1 Essaouira's average temperatures range between 18 and 28°C depending on the time of year. Due to the city's position on the Atlantic coast, the air is always in motion and the wind can sometimes be quite strong, providing welcome refreshment.
| | |
| --- | --- |
| Country | Morocco |
| Region | Marrakesh-Safi |
| City | Essaouira |
| Segment | Cool culture, Tastemakers, High achievers |
Bewitchingly beautiful
Essaouira, the 'small fortress' or Africa's Windy City, offers inspiration from the moment you set eyes on it – the Medina in the historic centre with its winding, bustling streets has remained true to itself over centuries. Here, the spectacle of everyday life has changed only gradually. Essaouira has a population of 80,000 and the Medina became a UNESCO World Heritage in 2001. The sea and wind, the Moroccan way of life and friendly people are your charming holiday companions in Essaouira.
ESSAOUIRA – A PEARL ON THE ATLANTIC COAST, COMBINING MOROCCAN TRADITION WITH EUROPEAN LIFESTYLE AND WARM HOSPITALITY
THE STORY
Essaouira, meaning 'the beautifully designed', is a seaport on the Moroccan Atlantic coast in the Marrakech-Safi region with a population of 80,000. Prior to Morocco's independence in 1956, the city was known as Mogador, which goes back to the Portuguese occupation of parts of coastal Morocco in the 15th and 16th centuries. The name Mogador is still used today for the island that lies about a mile from Essaouira, which is now a bird sanctuary and not accessible to visitors. In the Berber language, the name for the city is Taṣṣort. The old town, or Medina, with its secret and winding streets was declared a World Heritage Site by UNESCO in 2001.
Essaouira was inhabited and ruled first by Phoenicians and then by the Romans, Portuguese and French, but today's population consists mainly of immigrants from the Berber villages of southern Morocco who speak Moroccan Arabic and their native Berber dialects. French is also omnipresent as the language of business and education throughout Morocco.
Fishing and tourism are the city's chief commercial activities. Thanks to its mild winters and hot summers, Essaouira is also very popular with Moroccan tourists as well as increasing numbers of visitors from Europe. Here in Essaouira, just a two-hour's drive from Marrakech, the spectacle of everyday life changes slowly, so the Medina and Essaouira's port have been able to preserve their historic character.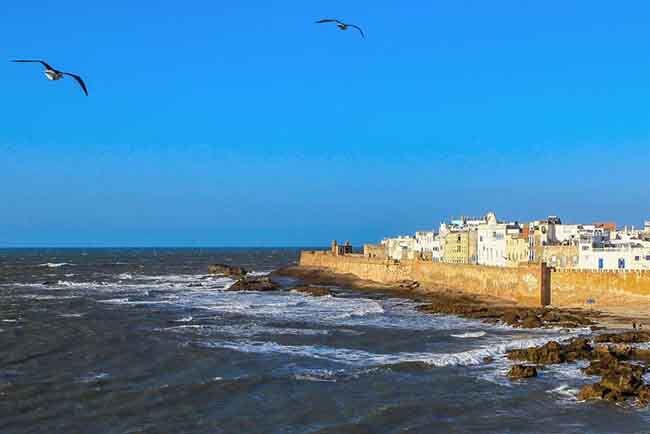 FACTS & FIGURES
Prior to 3rd century BCE: inhabited by Berbers, the indigenous people of North Africa

Since 3rd century BCE: settled by the Phoenicians, Romans, Portuguese and French. The Portuguese built the Castelo Real de Mogador in 1506, but had to abandon it in THE FACE of fierce local resistance

1765: Essaouira, known as Mogador until 1956, was built by Sultan Sidi Mohamed Ben Abdellah who directed the French engineer, Théodire Cornut, and other European architects to build the fortress which grew with the encouragement of the Sultan, becoming the largest commercial port in the country, enjoying a brisk trade in gold, ivory, leather goods, spices and other goods with Europe and Timbuktu as well as being the diplomatic capital from the late eighteenth century until the mid-nineteenth century

1912: Essaouira became part of the French protectorate of Morocco

1956: Mogador becomes Essaouira

1965: Morocco gains independence

2001: The walled old town (Medina) of Essaouira is declared a UNESCO World Heritage Site. The fully preserved Medina is considered one of Morocco's most beautiful cities. Since then Essaouira has experienced a spectacular renaissance, attracting both leisure and cultural tourism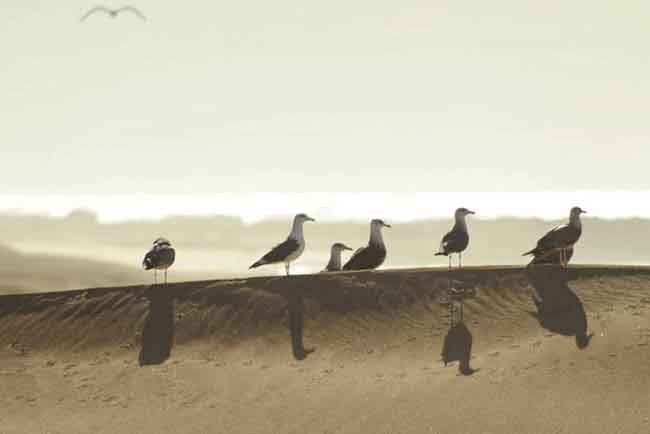 DISCOVER ESSAOUIRA

Wake up in a riad in the Medina and enjoy breakfast on the roof terrace overlooking the sea.

Take a stroll through the Medina, passing traditional handicraft stalls, modern art shops and colourful food souks.

Stop for a cup of coffee at a pavement café and watch the hustle and bustle of the main square.

Time for lunch and a tagine, Morocco's national dish, at Chez Said, an authentic Berber restaurant outside the city.

Afterwards, visit the Val d'Argan vineyard, established by a Frenchman over 20 years ago. 24 kilometres inland of Essaouira, the wine tasting with chilled Gazelle de Mogador is simply unforgettable.

Back in Essaouira the afternoon ends with a leisurely stroll along the beach that draws a 2.5km long arc from the fishing port to the mouth of the Oued Ksob river. Strong trade winds also attract surfers and kitesurfers from all over the world.

The walk comes to a perfect end at the old port where thé à la menthe marocain, Moroccan mint tea, awaits.

The evening's highlight: superb food, magic and live music combine at the Caravanne Cafe, probably the city's coolest location, to form an incomparable treat for taste buds and eyes.

Even today, the artistic aura of yesteryear is palpable in the city's streets. Ernest Hemingway came to Essaouira to write and music legends such as the Beatles, the Rolling Stones, Bob Marley and Jimi Hendrix were spellbound by the city's spirit that made Essaouira a magnet for hippies in the aftermath of 1967. Essaouira also made a name for itself as a film set. Orson Welles' making of 'Othello' here in the early 1950s is commemorated by a bas-relief of the famous man in one of the Medina's squares. Ridley Scott also chose Essaouira to reconstruct medieval Jerusalem. In 2013, the city became a location for the Game of Thrones fantasy series. Essaouira has attracted artists and bon viveurs from all over the world. This has not changed as the relaxed, cosmopolitan and artistic atmosphere still fills the streets where visitors find small galleries exhibiting both Moroccan and international art. Many of Morocco's leading creative artists own summer houses in the old town. They too contribute to the town's distinctly artistic atmosphere. For many years, the streets and alleys of Essaouira's Medina host music festivals. These include the Gnaoua World Music Festival, the Printemps Musical Des Alizés and the Festival des Andalousies Atlantique.
The annual Gnaoua Festival that takes place each May or June has become an institution, attracting the world's best ethnomusic bands and musicians. This melting pot of musical fusion lasts four days and attracts around half a million visitors each year. The music is performed in some of the most beautiful parts of the town and can often be heard free of charge. 2018 festival dates: 21 to 24 June.

Moroccan food is more than just varied – Arab, Mediterranean and African influences provide tasty cuisine diversity. Wherever you go in the souks and markets, you'll find fresh fruit and vegetables as well as freshly caught fish. Herbs and spices are also used extensively, with saffron, cumin, coriander, cloves and cinnamon providing indispensable ingredients. The best known Moroccan spice is ras el hanout – a mix of around 35 different spices used in the preparation of couscous and tagines, Morocco's national dishes.

Couscous is one of Morocco's national dishes and usually eaten on Fridays after prayers. Couscous is made of small steamed balls of crushed durum wheat, semolina, barley or millet and is traditionally served with a meat stew spooned on top – usually poultry, beef or lamb – as well as vegetables including tomatoes, potatoes, cabbage, chickpeas and pumpkin.

A tagine is a Maghrebi dish named after the earthenware pot in which the food is cooked. The tagine pot consists of a circular base and a cone-shaped cover. Poultry, lamb, goat or camel meat and fresh vegetables are slowly braised at low heat inside the pot. There are countless varieties, savoury and sweet, of this North African stew, which is typically cooked on a charcoal fire. When it's ready, the whole tagine comes to the table and everyone helps themselves.

Thé à la menthe marocain (Moroccan mint tea)
Morocco's national drink par excellence. In Morocco, a day without mint tea would seem unimaginable. This refreshing drink is served several times a day: for breakfast, after a meal or at the end of the day. Mint tea is more than a beverage; it is an integral part of the Moroccan way of life and symbol of hospitality. Green tea with fresh mint is also served during business transactions and when haggling at the bazaar. The tea is usually prepared by the head of the family.


Morocco has always been a land of wellbeing, which explains why the official bathhouse or hammam is so important. Combined with pure moments of pampering straight out of 1001 Nights, the Moroccan hammam is an exquisite bathing ritual that is celebrated in its most original form. Adopted from the Romans, the steam bath is still an integral part of Islamic culture. Its significance, however, goes beyond being a mere cleansing ritual practised regularly by many Moroccans. The hammam also has an important social function as it is a place for gossiping and sharing news as well as bathing and washing. In the strictly gender separated hammam the traditional art of natural care is transferred from generation to generation. Quiet rooms, soothing steam and splashes of hot water regenerate the skin and relax body and mind. A thorough scrub on the hot marble slab, and then the body is massaged with soap. Treatments in the steam room are a pure pleasure that quicken the senses.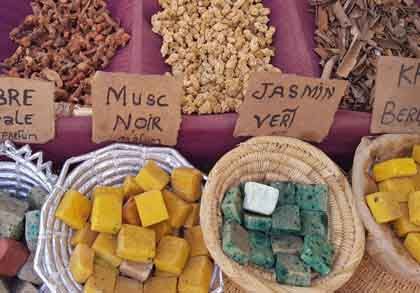 Nature is bountiful with her precious treasures in the area around Essaouira and the Sous plain. Golden and powerfully fragrant, argan oil is obtained from the fruit of the argan tree and is used in premium cosmetic products and luxurious beauty rituals.

SOUK HAD DRAA
Experience the real Morocco! 30km from Essaouira, this is the largest rural market in southern Morocco and takes place every Sunday. In addition to fruit, vegetables, grain, and everything you need, from everyday objects and kitchen utensils to second-hand goods and more, farmers bring their animals for sale. But you do need to be an early bird to catch the negotiations surrounding the sale of camels, sheep, donkeys and cows! Naturally, the market offers plenty of opportunities for enjoying great food and Moroccan mint tea. The hustle, bustle and wide range of available goods and services are impossible to put into words – you simply have to experience it for yourself!
It is always best to visit a souk in the company of a private guide.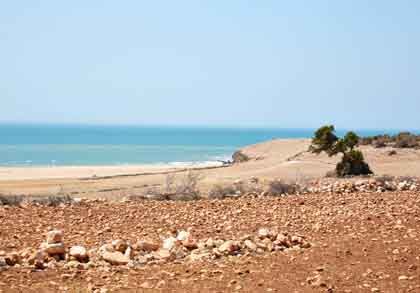 Relaxing and enjoying good food

Sightseeing

Nature and beach

Activities including golf, surfing, kitesurfing, mountain biking and hiking

Sturdy footwear, suitable for exploring the city's sometimes bumpy alleys and streets as well as the surrounding area

Sunscreen – despite the wind that ensures the temperatures stay pleasant, you will need to protect yourself from the sun's powerful rays throughout the year

A willingness to haggle, as this is simply part of the shopping experience in the souks and galleries

A large suitcase to transport all the treasures you've acquired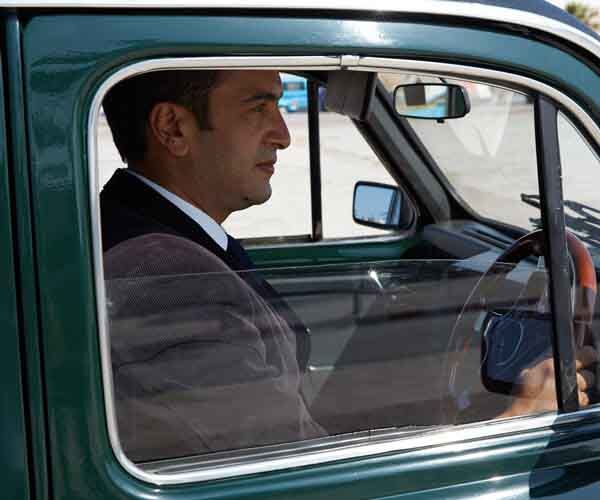 PRIVATE CONCIERGE – MOROCCO MADE TO MEASURE
A private concierge can organise your trip

Your private concierge can arrange restaurant visits and will also take you there on request; they will set up teeing off times at the golf course, horse riding on the beach and so on

A private concierge can add special inspiration to your holiday

Private concierges know the hidden places, secluded cafés and restaurants

Your private concierge lets you look – and step – behind the scenes so you become a participant in local life
Argan oil

Main growing area
Encompassing 26,000 square kilometres, the Arganeraie region is located in southwestern Morocco and was declared a UNESCO Biosphere Reserve in 1998. On the Atlantic coast it is bounded by the cities of Agadir and Essaouira and stretches inland as far as the foothills of the Atlas Mountains. This is the home of the argan tree, which provides argan oil but is also used by local farmers as feed and firewood. The trees, moreover, provide an important barrier against desertification.

The argan tree
Argan trees grow up to 12m in height and can have a crown diameter of up to 14m with up to 30m deep roots. They are also known as 'ironwood trees' because their wood is so hard and tough. An argan tree's life expectancy is around 400 years. Depending on the stage of ripeness, argan fruits have a similar appearance to olives or dates, their kernels look a bit like almonds and the oil has a slightly nutty taste; however, they are in fact berries.
Harvest & processing:
Traditionally, the ripe fruits are picked from the ground and dried in the sun. The fruit pulp is then removed before the kernels are taken out of their shells. The actual argan seeds are then roasted over a low heat, ground and kneaded with lukewarm water until the brown-coloured mash expels pure, unfiltered oil. Each step is done by hand, is time-consuming and results in low yields: the production of a single litre of high-quality argan oil requires at least 30 kilograms of fruit and about 15 hours of toil.
Significance for the region:
Pure, high quality argan oil is mostly produced by small women's cooperatives that make an important contribution to economic and social development in the structurally weak Arganeraie. Estimates suggest that the work of the women's cooperatives, which joined forces to form the Union des Coopératives des Femmes de l'Arganeraie, provide around 6,000 families with a secure income. Additionally, the cooperatives contribute significantly to environmental protection through new plantings and a sustainable approach to nature.

The goodness of Argan oil:
Argan oil is rich in unsaturated fatty acids, vitamin E, antioxidants and phytochemicals. It is also said to have anti-inflammatory, antibacterial and cholesterol-lowering properties among other things. In Berber medicine, argan oil is frequently used to treat skin diseases as well as stomach and intestinal disorders.
Uses:
Argan oil extracted from roasted seeds is mainly used to season and refine a wide range of dishes. Roasting is important because this rids the oil of its bitter taste and gives it its typical, delicately nutty flavour. Unroasted it is mostly used in the cosmetics sector and is considered an effective anti-ageing skin moisturiser. Argan oil is also a popular hair care product.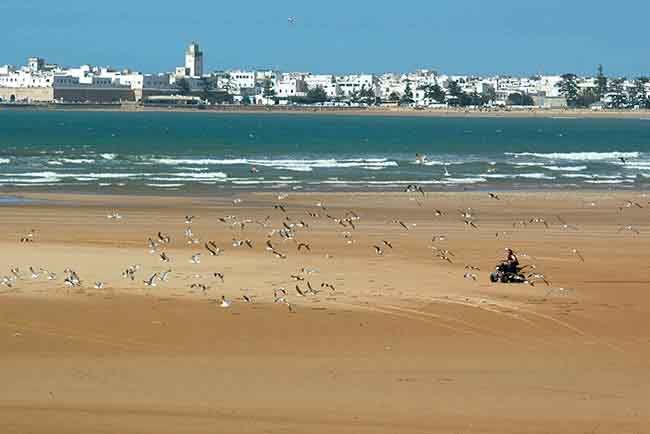 RECOMMENDED ACCOMMODATION

A charming riad in the heart of Essaouira's Medina. Built on 400sqm within the ramparts, the hotel's rooms and suites open onto a courtyard. The spa and restaurant are equally inviting. Breakfast is served on the rooftop terrace where guests enjoy a superb view of the Atlantic Ocean and the old town. The roof terrace is also where snacks are served during the day.
www.riad-palais-essaouira.com

Also located in the heart of the Medina, this hotel is furnished in traditional Moroccan style and offers prettily furnished rooms and suites. On the roof terrace you can enjoy breakfast as well as a gorgeous view across the city to the sea.
www.riadnakhla.com

A few steps from the city walls and the sea, the Dar L'Oussia offers 24 stylish rooms and suites as well as a spa, bar area and a restaurant for the discerning guest. The spacious panoramic terrace leaves nothing to be desired in terms of cuisine and gorgeous views.
www.riad-darloussia.com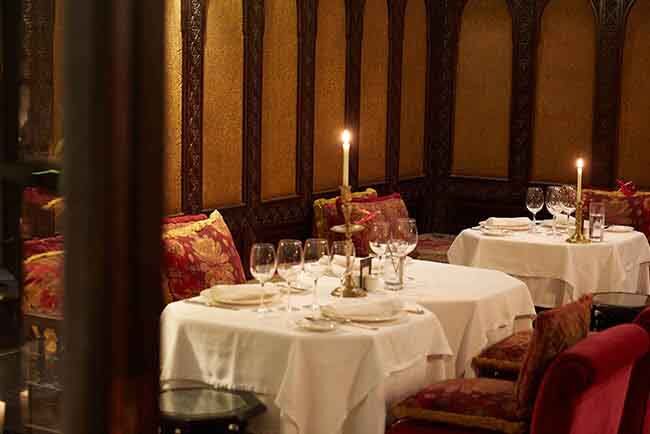 RECOMMENDED RESTAURANTS
From the traditional national dish tagine to modern interpretations of recipes from across the world, the restaurant's sophisticated cuisine is served in a stylish ambience – a favourite haunt of gourmets!
www.riad-darloussia.com

Located on the beach, the restaurant offers a spacious terrace with great views as well as excellent fish dishes and delightful platters of seafood.
www.lechaletdelaplage.com
Small, traditionally furnished restaurant with few tables and a cosy atmosphere. Enjoy traditional Moroccan cuisine including a range of tagines and couscous dishes.
www.tripadvisor.at

An eclectic restaurant serving exquisite French-inspired food and a cool oasis for drinks with live music, fire eaters and magicians. The Caravane Café's unusual ambience is partly thanks to its mix of interior design elements and furnishings.
www.tripadvisor.at

A nice restaurant with very good food and beautifully prepared dishes. After your meal, it's worth popping up to the rooftop terrace where a bar and live music await.
www.tarosessaouira.odns.fr

A must for wine lovers and gourmets is to be found in the heart of Charles Melia's Val d'Argan wine-growing estate. A place where traditional Moroccan cuisine and good wine are celebrated. Glorious gardens invite the visitor to linger before visiting the winery. The view from the restaurant to the vineyards is spectacular!
www.valdargan.com

This authentic Berber restaurant's speciality is the tagine in all its variations – a wonderful experience and superb food!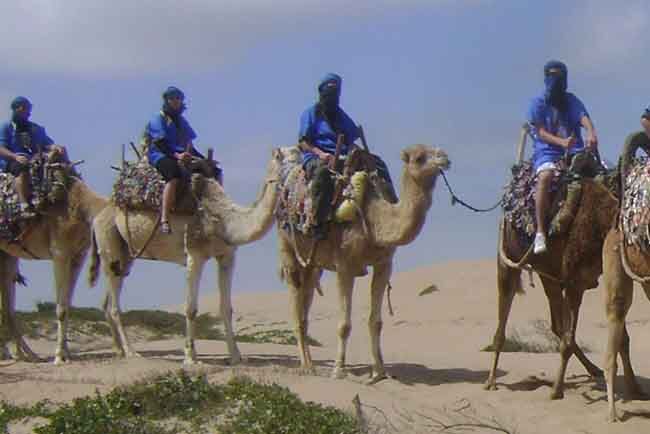 WHAT TO DO – ACTIVITIES
Art, culture, sports and nature – Essaouira shows off its many-faceted attractions. A stroll through the old town leaves a lasting impression. All over the city, you come across objects made by the capable hands of Moroccan craftsmen. Incredible colours, fabrics, variety and a sense for small miracles are characteristics of the Medina and its fascinating culture. The daily souk, or market is a must – you have to have been there to truly appreciate it. Whatever your pleasure – you'll fall in love with Essaouira.

Walks or guided tours of the historic Medina, a UNESCO World Heritage Site

Visits to art galleries and traditional handicraft shops

Boat trips to the Iles Purpuraires off the coast of Essaouira – requires a special government permit

Beach walks to the Sidi Magdoul lighthouse

Horse riding, camel rides, quad biking on the beach

Trip to Sidi Kaouki beach, 25km south of Essaouira

Mountain biking – there are plenty of bicycle hire shops

Trip to the Val d'Argan vineyard (24km)

Visit to Coopérative Marjana argan oil cooperative approx. 14km outside of Essaouira. The women in this cooperative make Morocco's liquid gold by hand and enjoy fair working conditions. Argan oil and argan oil products are available to try and buy in the adjacent shop.

Golfing at the Mogador Golf Club's 18-hole, par 72 course and 13-hole course. Beautifully situated on the Atlantic coast, these golf courses, designed by the golf champ Gary Player, leave nothing to be desired

Jet-skiing
Surfing & kite surfing: Essaouira and its coast are very popular with surfers. Beautiful beaches, the legendary spring and summer trade winds and picturesque surfing spots offer perfect conditions for beginners and surfing pros
HOW TO GET TO ESSAOUIRA
Flights fly direct from London to Essaouira airport, only 10 miles from the town. Other airports: