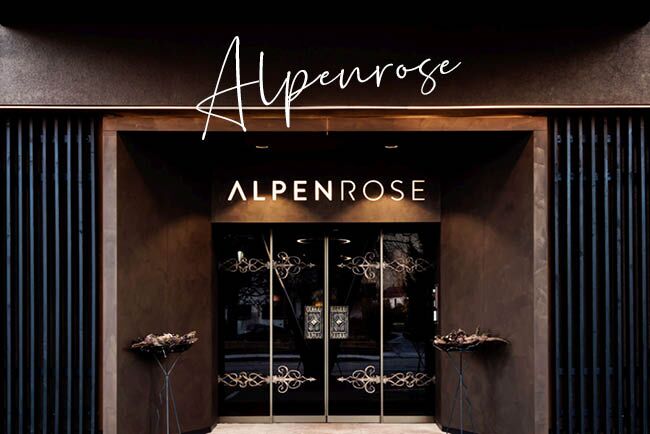 ALPENrose
| | |
| --- | --- |
| Country | Austria |
| Area | Kufstein, Tyrol |
| Property | ALPENrose |
| Segment | Cool culture, Love nesters |
| Style | Urban boutique style with Tyrolean charm |
Young, bold and creative restaurant and city hotel in Kufstein – an urban haven of comfort with tasty highlights
THE STORY
Want to do Kufstein in style? Looking for a fresh, creative business venue away from the mainstream? You'll find what you're looking for, plus tasty highlights from an award-winning kitchen, fresh produce from the hotel's own farm, a dose of zappy innovation and lots of experiences and culture right here, at the ALPENrose restaurant and city hotel in Kufstein. It's everything, just not ordinary. 'Only the best will do,' is their motto. Down to earth, young, fresh and Tyrolean. Providing exceptional holiday and business moments in the heart of the town.
Pass the trendy sofa and enter traditional Tyrolean Stube. This introduction promises what the rest delivers. A meeting of worlds: sassy, free, charming and refreshingly creative. Young, friendly service staff and a sommelier who thinks outside the box, as do the award-winning dishes. Skilfully, the Lindhof chicken snuggles up to celery puree and a Lindhof plum is embraced by sweet cheese dumpling dough.
The Lindhof is the family-owned farm, where much of the ALPENrose's tasty food is grown and raised. And also where many a managerial team gets whisked away to. They call it Farming Day: when businesspeople squeeze into wellies and pick their own vegetables. While some harvest the fruits of their workshop at the Lindhof, others succumb to the charms of wine tasting at the Riedel glass factory across the road from the ALPENrose, as well as blowing their own crystal glassware. In between, they get to have meetings, conferences and seminars as well as enjoying top catering. It can also be a celebration of team building: adrenalin-packed and delicious. Or just a celebration. Combining city life with country pleasures…
What else? Kufstein fortress is just around the corner. Enthroned above the sedate town, it harbours art and offers cultural delights that range from operettas and organ recitals to short film festival. Shopaholics get their fixes in the street and alleyways of Kufstein, and the day concludes at the ALPENrose with dinner and wine.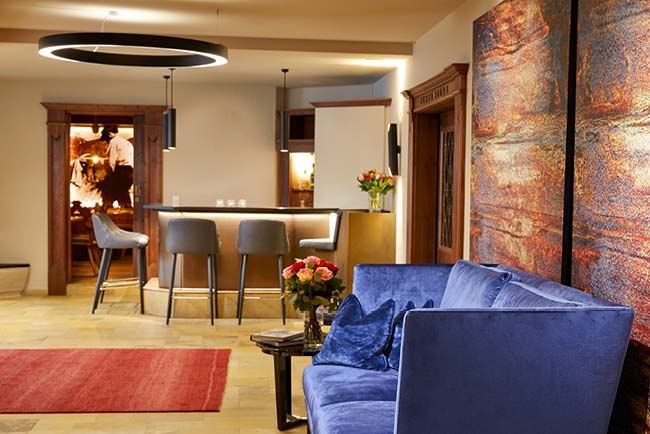 Winner
2 toques/14 points – Gault&Millau 2020

2 forks/85 points – Falstaff Restaurant Guide

2 stars/73 points/1 bottle – A La Carte

Rising Star of the Year – A la Carte 2018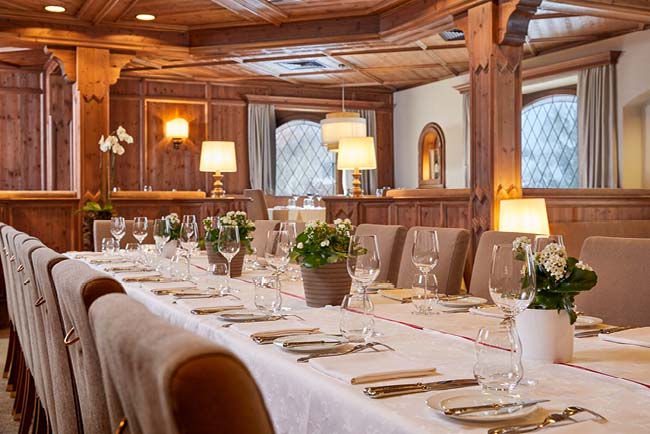 Discover the ALPENrose

A jog around Kufstein

A sweet spoonful of natural happiness: honey from the family farm

Trying my hand at glass-blowing and watching the professionals at work, across the road at the Riedel glass factory

Hiking along imperial paths in the Kaisertal nature reserve

A perfect match: award-winning dining and wine pairing at the Restaurant ALPENrose

A stroll through Kufstein under the stars

A concert at Kufstein fortress

Nightcap at the ALPENrose Bar & Lounge

And tomorrow? Let's do it all again – but with the business team this time!

A view of the city, Tyrol at the heart of these rooms. Tyrolean pinewood enlivens the senses and lowers your heart rate at night, resulting in restful sleep and sweet dreams, and helping you to face the day feeling refreshed and reinvigorated: giving you the edge, whether it's in outdoor pursuits or a business meeting. The tranquil city hotel has just 27 rooms, but an abundance of service and charm. Less noise, hustle and bustle means much more comfort. Business gadgets and rain showers (in superior rooms) included.

A sophisticated, elegant approach to cuisine that also exhibits a down-to-earth attitude that is close to nature and people-friendly – in a word: Tyrolean! Using sustainably sourced produce directly from the family-owned Lindhof farm.
Chef: Award-winning chef Markus Heimann • Sommelier: Christian Prack
Restaurant ALPENrose (123sqm, seats 70 max): À la carte, award-winning, with deep local roots and a cosmopolitan attitude. Using sustainably sourced produce directly from the family-owned Lindhof farm.
Restaurant Gemeinsam.Keit (69sqm, seats 40 max): where an energy-packed, sumptuous breakfast buffet awaits. Serving herbal teas and wellness juices. This is also a great place for a business lunch with daily changing, light and vegetarian specials.
Tiroler.Salon (27sqm, seats 26 max): rustic ambience and great food.

Where sunshine, culinary delights and balmy summer nights await. ALPENrose-style BBQ. For sunny receptions and summer parties under stars.

THE LINDHOF: FARM AND EVENTS VENUE
The regional food at the ALPENrose Restaurant is mostly sourced from the family-owned Lindhof, an 11-hectare, over 250-year-old farm. Sustainable, organic and influenced by Ayurveda, animal husbandry and agriculture are run in line with traditional, species-appropriate methods. But the idyllic farm is so much more than a food producer for the award-winning Alpenrose and its sister, the European Ayurveda Resort Sonnhof: the Lindhof is an events venue! Incentives, workshops, meetings. Seminars, celebrations… If you'd prefer to escape city life, or like to combine the two, you're in the right place at the Lindhof. During the day there's bread baking classes, charming farming workshops, barn tasters or meetings under the apple tree, and at night: award-winning dining with exquisite wine pairing at the ALPENrose. In the morning, get creative with a meeting at the Erfolg.Reich followed by team building with the help of some serious SUP…

Seminars and conferences for up to 60

Business events for up to 100

Two multifunctional, air-conditioned rooms with natural light, state-of-the-art conference technology and direct access to the garden Erfolg.Reich (75sqm, seats 50 max) Privat.Affair (27sqm, seats 12 max)

Free parking in front of the hotel

Top transport links

High-speed Wi-Fi

Gourmet catering

Cool event options @Lindhof

Equipment:
Flip chart, pinboard, pads and pens, screen, projector, sound system, high-speed Wi-Fi, full presentation kit, ample parking in front of the hotel

Perfect side event for strong team building and unforgettable experiences:
Stable meeting – workshop in the meadow – a day on the farm – charming farming workshops – catering @Lindhof

Sledding with huskies – igloo building – quad bike tours – Active Spirit: caving – GPS-iPad challenge – SUP tour – canyoning – caving – rafting and more

Always tasty: Riedel glass show workshop with wineglass tasting and interactive museum

Weddings and parties for up to 120
Sparkling, 4-star events: Host Stephan Mauracher, award-winning chef Markus Heimann and sommelier Christian Prack offer cool concept inspiration for weddings, birthdays, anniversaries and much more. Hip yet traditional dining rooms, rustic Ofenstube, hotel terrace, meeting rooms or even an 11-acre farm with a stable, farmhouse parlour and views over the Kaiser mountains? Just say yes!

COOL CULTURE IN ERL
Tyrolean Festival Erl and Erl Passion Play: renowned cultural highlights in Kufsteinerland. Featuring famous artists from across the world, Erl's summer and winter festivals are enjoying great international resonance. Established in 1998, the repertoire in the Festspielhaus ranges from chamber music to philharmonic concerts and operas.
For more than 400 years, the famous Passion plays – plays depicting the suffering and dying of Jesus Christ – have been performed in Erl. The Passion plays in Erl are rooted in an Easter play by Meistersinger Sebastian Wild dating back to 1565. The striking Passionsspielhaus music venue was built in 1959.
COOL CULTURE IN KUFSTEIN
Kufsteinerland: stronghold of culture. Steeped in history. From the Sewing Machine Museum and historic Römerhofgasse to the Riedel glassworks with interactive museum, multimedia show and shop.

Unmissable: The earliest documentary evidence for Kufstein Fortress dates back to 1205. Kufstein's main landmark houses the City Museum and the world's largest free-standing organ (daily concerts at noon and – in July and August – at 6pm). Highlight: the Christmas market. Taste: medieval banquets at the Festungswirtschaft restaurant. Experience: themed tours. Must-see: the museums and special exhibitions.

Meetings, seminars and workshops

MICE and team building away from the mainstream

Charming farming workshops, farm meetings, farm-style events

Art, culture, glassworks

Fresh, creative, award-winning foodie experiences

Foodie events including wine tastings, Advent brunches and ALPENrose-style BBQs

Celebrations and parties with your team, family or friends

The taste of romance with Private.Affairs

Erl's festival plus culinary delights

Festive fortress and a Tyrolean city-style night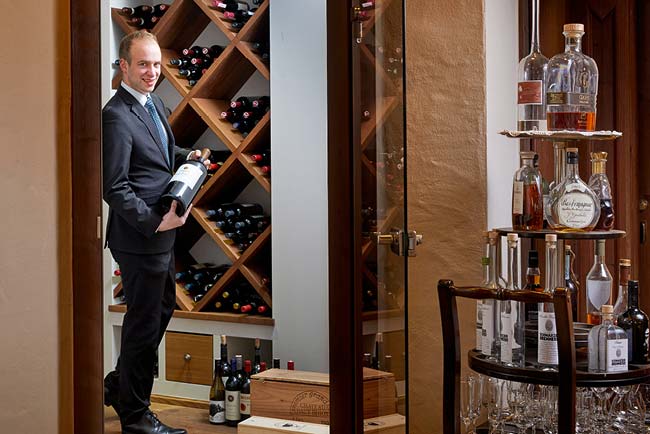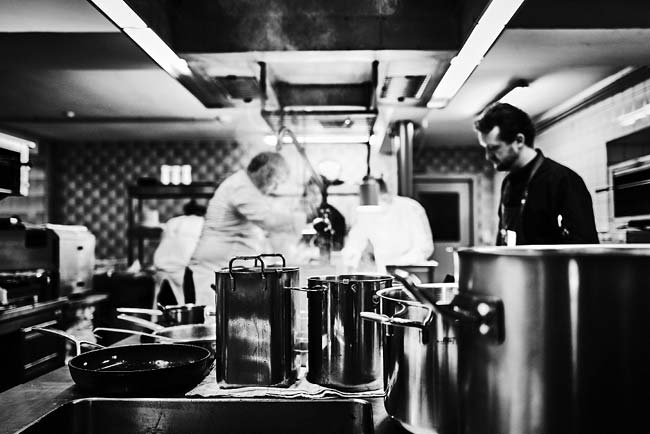 Find ALPENrose
In the heart of Kufstein, near Kufstein Fortress, opposite the Riedel glassworks, 80km from Innsbruck airport, 105km from Salzburg airport, 130km from Munich airport, 5 minutes from Kufstein train station.
Images: Alpenrose, Michael Huber, VANMEY PHOTOGRAPHY, Katharina Kraus/FOTO-RiNi, Michaela Seidl Photographie, W9 Studios, TVB Kufstein, Loewenzahm, Passionsspiele Erl, Tirol Werbung/Oliver Soulas