European Ayurveda Resort Sonnhof
| | |
| --- | --- |
| Country | Austria |
| Area | Hinterthiersee, Tyrol |
| Property | European Ayurveda Resort Sonnhof |
| Segment | Health highs |
| Style | 'Tyrol meets India' design concept |
| | |
| --- | --- |
| Member of Healing Hotels of the World | |
| 4-star | |
EUROPEAN AYURVEDA IN THE HEART OF THE ALPS – FOR A HEALING HOLIDAY WITH A DIFFERENCE
THE STORY
You sip your tea and look out towards the Alps, you've never breathed air this fresh or taken time to watch the shadows of trees dance in the cool mountain breeze. Here, you feel at ease, your spirit content. You stroll through the blooming rose garden, inhale the sweet scents and exhale your cares. You're back at the resort and it's time for Udvartana: a herbal powder massage, otherwise known as utter bliss.
Big, overindulgent meals are your vice, you're apprehensive about trying new, healthy, vegetable-based dishes, but you've made it this far, so you give European Ayurveda cuisine a chance, and are pleasantly surprised! The creativity and care that has gone into preparing each meal is outstanding.
You retire to your suite, while away time on the balcony before succumbing to the Land of Nod. One blink, and the sun is shining, did morning really come around that quickly? You're up, refreshed and ready for morning Yoga… Namaste!
WINNER
Europe's Best Luxury Ayurveda Spa Award – World Luxury Spa Awards 2019
SPA STAR Award 2019
'Bang for your buck' award – Tatler Spa Guide 2015
'Bewusst Tirol' (Consciously Tyrol) prize for commitment to regional produce – Agrarmarketing Tirol 2015
DISCOVER EUROPEAN AYURVEDA RESORT SONNHOF

Early morning Yoga with Alpine views

Flowing oil treatment

Jambira Pinda Sveda – bag massage with two therapists

Vegetarian lunch buffet

Time for me in the Garden of Five Elements

Soak up the heat in the Moon & Sun Saunas

Tea ceremony in the Indra conservatory

Meditation session

Forest and meadow walks in the evening sun

Dinner to suit my personalised nutritional plan
The 30 generous rooms and suites at Ayurveda Resort Sonnhof offer a 'Tyrol meets India' aesthetic. Health and wellbeing is of prime importance, so all rooms are Wi-Fi free, however internet access is available in the lounge.
Every stay at the resort incorporates Sonnhof Signature Cuisine, with full board based on the European Ayurvedic cuisine culinary brand. This groundbreaking concept follows the principles of Ayurveda for restoring vital energy balance. It is also adapted to suit European tastebuds with first-class, regional products from owner Johann's own farm as well as the region's markets and suppliers. Vegetarian dishes are tailored to each guest's individual requirements, and take into account the three constitutional types of Vata, Pitta and Kapha.
The Indian chef sets you up for the day with a sumptuous Ayurvedic breakfast buffet. Lunch is a Pitta buffet with delicious soups, salads, appetisers and desserts. A Vata snack – tea ceremony with fruit – is served in the afternoon, and the delights of a five-course dinner await you every evening. For Panchakarma programmes there is a separate Panchakarma diet. You can enjoy your meals in the plush Buddha's Place restaurant or in Indra Garden. Visit the Spirit Lounge – a special retreat, dedicated to the planets and elements – to enjoy a lovely cup of tea.

Tailor-made, not off-the-peg. In fashion, sure, but even more so when it comes to health, nutrition, exercise, and regeneration. This is exactly what European Ayurveda® provides. The Indian teachings of Ayurveda perfectly tailored for Western society, adapted to our climate, our needs and lifestyle. Remedies and foods come from our own soil, because our bodies' familiarity with them means they simply work better. Therapies and treatments are designed to combat our lifestyle diseases with a combination of complementary medicine, conventional medicine and the latest scientific findings.
The concept constantly evolves thanks to experts from Ayurveda's country of origin, Ayurvedic physicians and therapists, nutrition experts, conventional physicians, scientists, European Ayurveda® specialists and complementary physicians.
European Ayurveda is based on the six pillars of Consultation and Treatment, Healing Spirit, Medical Care, Ayurvedic Nutrition, Yoga and Meditation, and Exercise and Regeneration.
The resort's spa is housed in the AyurvedaCentre where the theme of 'Tyrol meets India' finds further reflection: a temple to wellbeing defined by the masculine and feminine principles of Shiva and Shakti. The tranquil atmosphere, gentle fragrances and peaceful sounds soothe the senses, while the team of medical and Ayurvedic experts provide healing and relaxation.
AyurvedaCentre with panoramic indoor pool, energy fountain, heat therapy, three themed saunas and steam rooms, Moon Sauna, Sun Sauna, five infrared heat cabins, Shakti fitness room, Swasthya peace room, OM meditation room, Ayurveda lounge, 12 treatment rooms and two medical rooms, pulse diagnosis by Ayurveda specialist Gaurav Sharma, medical expertise from Dr Alaettin Sinop, acupuncture/TCM, Ayurvedic medicine, manual medicine/chirotherapy, neural therapy/homeosiniatry, neurocybernetic massage therapy, conventional medical services, programmes include the Panchakarma cure, AyurDetox breaks, rejuvenation weeks, Rasayana treatments, Yoga, Qi Gong, Ayurvedic massages and treatments, classic massages, The Tipping Method, Elfenzauber by Sonnhof, beauty treatments with Thalgo products.
Experience the Panchakarma treatment for a positive route to long-term regeneration and a new sense of inner equilibrium.
CONSULTATION AND TREATMENT
Complementary medicine, Ayurvedic medicine and traditional Chinese medicine combined with diagnosis and cutting-edge treatments, all tailored to the Western world.
HEALING SPIRIT
Mindfulness exercises, Mind Detox and Ayurvedic psychology help you find inner harmony, live mindfully and achieve your full potential. Liberate and strengthen the mind. Mindfulness helps you navigate the minefield of Western societal stress.
MEDICAL CARE
Conventional medical diagnosis and treatment complement the Ayurveda services nicely. Medical check-ups, GP services, emergency medical care, non-invasive diagnostic measures and laboratory testing.
YOGA AND MEDITATION
Yoga harmonises mind, body and spirit as well as balancing the breath and body. Meditation brings about a clearer view of creation and existence – it guides us towards the true self and its needs. Specially developed Yoga techniques cater for European physical and emotional needs.
EXERCISE AND REGENERATION
The right level of tension and relaxation forms the basis for a life in balance and good physical health. The musculoskeletal system is a particular weak spot in Western society. Based on medical research, European Ayurveda® has developed a unique exercise and regeneration programme.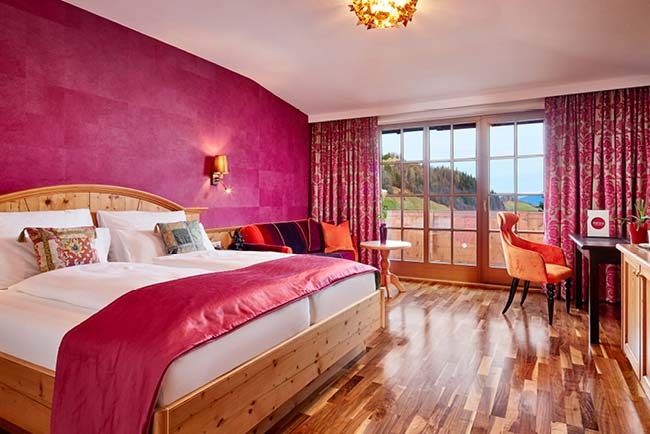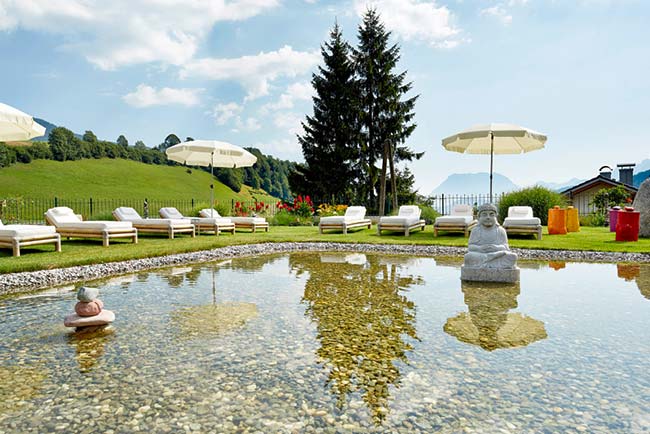 FIND EUROPEAN AYURVEDA RESORT SONNHOF
Situated in Hinterthiersee, Tyrol, on a high plateau above the Thiersee valley at 900m altitude against the stunning backdrop of the Kaiser Mountains. Innsbruck is 1 hour away, Salzburg 1 hour 20 minutes and Munich 1.5 hours' drive.
Images: Michael Huber, Katharina Kraus/FOTO-RiNi, Luftwerk.at