Holiday of a lifetime in Italy
A childhood dream turned reality
In the idyllic seclusion of the Ridnaun valley, Paula Volgger and her eight children are the heart and soul of Hotel Plunhof, ensuring a welcoming, family atmosphere. Paula and her late husband Leopold built Hotel Plunhof in Ridnaun 40 years ago – a childhood dream, perhaps inspired by witnessing her father, a miner, slaving and digging to find silver in the nearby Shneeberg mine. Paula's beginnings as a miner's daughter inspired the Plunhof's haven of wellness, and she is now the proprietor of one of the world's most innovative spas, her legacy to the next generation of Volggers. Italian exuberance, South Tyrolean tradition, seamless hospitality and creative wellness concept – just some of the ingredients that make up the character of Hotel Plunhof.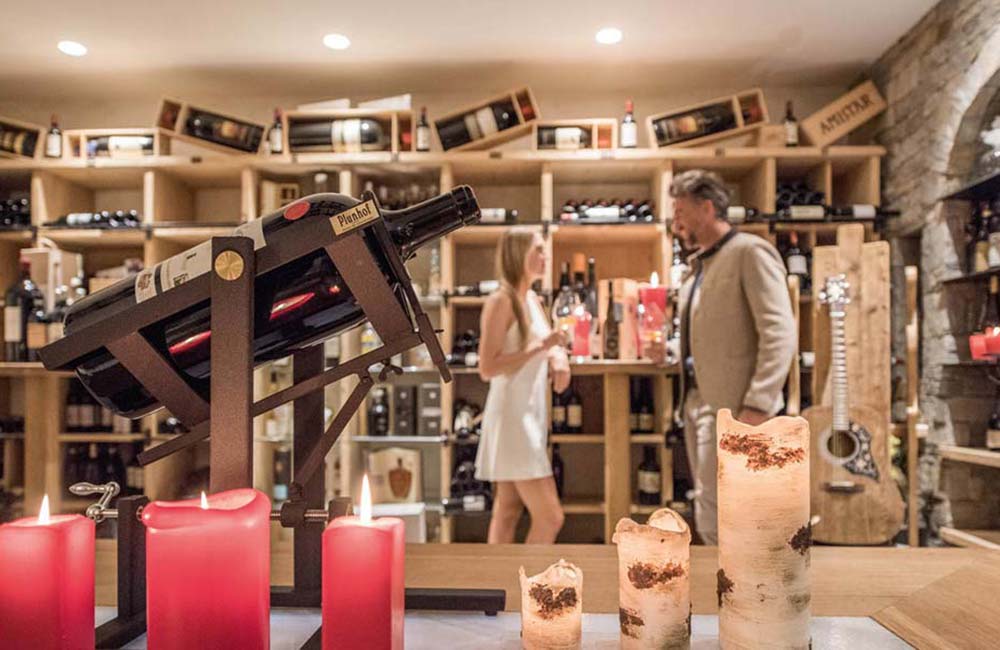 An unusual spa concept
The Volgger family's history provided the starting point for one of the most astonishing spa concepts in Europe: the Spa & Acqua Minera. This multi award-winning destination spa with Europe's only 'wellness above and below the surface' concept mirrors local mining traditions. Underpinned by the power of rock and nature, we recommend making the most of the feel-good atmosphere in the saltwater whirlpool, saunas, steam room and infrared cabin, the shower temple and the marvellous relaxation areas where you can go to ground in a 'world of mining'. In 2019, Paula and the eight Volgger siblings invested €6.5 million to turn this oasis of wellbeing into the most fabulous, 4,000sqm hideaway.
Tip:
Spa Minera offers beauty treatments with all the power of nature and the elements. Their Silver Quartzite Stone Massage exploits the power and high silica content of this Alpine rock for energetic massage therapies.
Mediterranean and Alpine flavours in harmony
Homemade pasta and dumplings or Paula's infamous doughnuts… what'll it be? The Eisack Valley has a long-standing reputation as one of the Alps' top five culinary destinations. This became official in 2015, mostly thanks to the region's outstanding culinary diversity combined with superb hiking opportunities. The extraordinary mix of tradition, experiences, enjoyment, regionality and creativity is strong at the Plunhof. Chefs Peter and Egon Volgger serve mainly seasonal and regional South Tyrolean specialities as well as gourmet Mediterranean dishes. Wherever possible, they use produce sourced from local organic farms.
Fond of a vino or two? You can look forward to a selection of 600 predominantly Italian and South Tyrolean wines as well as wine tastings in the hotel's Bacchus wine cellar. Wine experts Günter and Erwin Volgger would love to whisk you off on a tour of the hotel's own cuvée.
Tip:
Learn to cook with the chefs' regular cookery classes.
Hiking
Take your pick: idyllic valley walks, sheltered forest paths, hikes through tranquil mountain pastures and along Alpine trails with breathtaking views – there is no shortage of high-Alpine tours and summit climbs. Ask Paula Volgger, and she'll tell you that the Seven Lakes Tour and the walk to the Plunhof Alm for a barbecue are unmissable. The latter is undoubtedly the top pick for nature lovers. On the other hand, the Seven Lakes hike into the Ridnaun Valley, which is guided by hiking enthusiast Günter Volgger himself, is only for sure-footed hikers in good physical condition and with the appropriate gear. However, there is no need to carry drinking water, because the route is lined with mountain springs. Don't bother packing any snacks, Günter knows the best places to stop for a bite to eat.
The Volgger family's walking tips
Seven Lakes Hike: Start at 1,418m – Moarerbergalm mountain hut 2,113m – Mittlerer Moarer Egetsee lake 2,468m – Egetjoch pass 2,693m – Hinterer Senner Egetsee lake 2,647m – Vordere Senner Egetsee lake 2,510m – Trüber See lake 2,344m – bridge over the Fernbach 2,118m – Grohmann Hut 2,254m – walking time 7 to 9 hours

Plunhof > Stadlalm: Ascent 2 hours – descent 2 hours – easy walk

Plunhof > Aglsbodenalm: Ascent 3 hours – descent 2 hours 30 minutes – easy walk

Plunhof > Plunhofalm: Ascent 2 hours – descent 2 hours – easy walk

Plunhof > Joggelealm: Ascent 2 hours 30 minutes – descent 2 hours – easy walk
If this story has got you interested in starting your journey with Niche Destinations, please enquire here.
A WORLD OF STORIES
If this story has got you interested in starting your journey with Niche Destinations, please enquire here.
A WORLD OF STORIES