AUSTRIA
Kirchberg, Tyrol
Rosengarten
| | |
| --- | --- |
| Package | ALPINE ELEMENTS® 1-WEEK HEALTH BOOST |
| Country | Austria |
| Area | Kirchberg, Tyrol |
| Property | Rosengarten |
| Style | Urban chic lifestyle in a mountain setting |
| Segment | Wellbeing |
Renew yourself and your health
Starting to wilt? Recover your bloom at the Rosengarten with their Alpine Elements® 1-Week Health Boost. Incorporating the best of eastern philosophy, holistic medicine and modern expertise, this week could turn your health around – sending you home regenerated, informed and inspired to continue a healthier lifestyle. Its focus is on balancing: your acid/alkaline ratio through nutrition; your body through gentle exercise such as Yoga; and your mind through relaxation, listening and sharing.
This 7-night package starts with your diagnosis and a keynote talk explaining the eastern philosophies behind your health boost. Every day, you will have meditation and Yoga sessions, talks, Bergblut detox juices and the full board ALPINE ELEMENTS® SPA cuisine menu. Throughout the week, there will be a cookery class, 2 Vitalfeld therapies and 7 regenerating – including 3 Susan Kaufmann™ – spa treatments. And finally, you will leave with a menu plan and plenty of information to stay well at home.

ALPINE ELEMENTS® SPA cuisine

Relax with Yoga

Susan Kaufmann™ spa treatments

Listening and sharing – with experts in the five elements of nutrition and Traditional Chinese Medicine (TCM).

SPA with gym and indoor pool

ALPINE ELEMENTS® 1-WEEK HEALTH BOOST
11 – 18 January & 14 – 21 March 2020
7 nights

Full board with Alpine Elements® breakfast, lunch and dinner menus

Bergblut juices for gentle detoxification

Daily exercise programme

Global Diagnostics tests and 2 Vitalfeld therapies for optimal support

Daily Yoga classes & meditation (for beginners and experienced practitioners)

Keynote talks on the individual elements including easy-to-use self-help tips

1 Susanne Kaufmann™ detox massage (50mins)

1 Susanne Kaufmann™ detox oil scrub (50mins)

1 Susanne Kaufmann™ body rejuvenation wrap (45mins)

Alkaline foot bath with preceding pure fruit & vegetable juice (20mins)

1 deep tissue, fascia-relaxing meridian massage to stimulate lymphatic circulation (50mins)

2 partial body lymphatic drainages (50mins)

Meal plan with recipes to take home

1 cookery class

Concluding discussion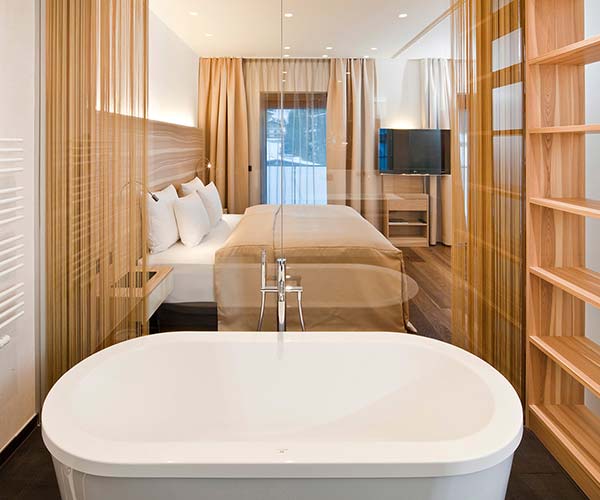 The week starts with Global Diagnostics and a keynote talk. Discover: Where am you? Where do you start? What awaits? Plus: An introduction to the 5 elements and ALPINE ELEMENTS® SPA cuisine.
ALPINE ELEMENTS® SPA cuisine: Start the day with a hot, alkaline breakfast. Lunch focuses on one of the five elements, and in the evening, there's an easy-to-digest, high-protein meal. Central: superb flavours and balancing the acid-base ratio!
To keep you going, drink delicious juices by Bergblut. These metabolic boosters help the detoxification process and supply essential nutrients. TCM expert Martina Egger will be at your side with support and assistance. Furthermore, you'll learn to cook a delicious alkaline soup during your cookery class, and the daily exercise programme helps improve metabolic function while Yoga and meditation classes are designed to suit all abilities.
Cosy 'fireside chats' offer opportunities to ask questions and chat about your experience.
Stimulating and relaxing treatments help the purification process, and sustainably enhance wellbeing.
At the end of the Health Boost, you and the experts review all that you have experienced and learned.
And afterwards? You'll receive a booklet with recipe suggestions!
Photo credits: Hotel Restaurant Spa Rosengarten, Felix Holzer, Susanne Kaufmann, iStock