| | |
| --- | --- |
| Country | Austria |
| Area | Serfaus-Fiss-Ladis, Tyrol |
| Property | Hotel Tirol |
| Segment | Lifestyle, Culinary Experiences, Spa |
| Style | Tyrolean elegance with lots of local flavour |
INDIVIDUALITY, LOCAL EXPERTISE AND WARM HOSPITALITY IN THE FAMILY-FRIENDLY SERFAUS-FISS-LADIS HOLIDAY REGION
THE STORY
You step out onto the balcony to watch the sun rise over the mountains, the cool morning breeze glides over your body, and you breathe in the crisp mountain air. Energised by the power of nature, you skip your morning coffee and head outside. Your day will take you wherever you wish, from walking through dreamy Alpine surroundings to strapping into the Skyswing, feeling utterly weightless, and then freefalling: exhilarating! From carving the slopes of Serfaus-Fiss-Ladis, to enjoying gourmet delicacies and the spectacular mountain vistas at the luxurious Crystal Cube. Fiss.
After an active day in Fiss, you're tempted up to the fourth floor and dive right into the rooftop infinity pool before relaxing in the sanctuary of the Gipfel SPA. The Finnish sauna invites then an hour or two in the Sky Table ensues. Your imagination roams as you revel in the tranquil energy. Body, mind and spirit relaxed, you while away time before an evening of delights in the PleasureLounge.
You wholeheartedly agree with your host's favourite motto: 'Life is too short to drink bad wine!' The sommelier helps to choose the perfect wine to pair with your deli-style dinner. Feeling vivacious you transfer to the TiroLoungeBar and find yourself drinking cocktails and laughing with friends – old and new – until the early hours. That's Hotel Tirol!
DISCOVER HOTEL TIROL
Wake up in a mountain-themed room

Hearty Tyrolean breakfast in the Zirmstube

Admiring the views of the Alpine surroundings from the rooftop infinity pool

Holistic massage in the hotel's Gipfel SPA

A winter walk through glorious Fiss

Learning to ski with expert instruction

Back to the hotel to relax in the stone pine bio sauna

Private dining with friends in the PleasureLounge

Drinking Tequila Sunrises till the early hours in the TiroLoungeBar
The 51 rooms and suites offer contemporary interiors and furnishings made of high-quality, natural materials from the Alps. All rooms offer a balcony with stunning views to the mountains. 14 news rooms have a mountain theme and feature Alpine art, with evocative names such as Alpinist, Skier, Forest Wanderer and Tyrolean. AlpineDelight suites have more space for comfort with sauna and children's room, Garden suites offer their very own private garden, and the two-level Wellness suite includes a spa bath for two and a sauna for ultimate wellbeing, plus separate children's room.
The excellent produce used at Hotel Tirol delights gourmets. It is mainly sourced from the surrounding regions and is prepared with care and professionalism, combining Mediterranean style with Tyrolean tradition.
Hotel Tirol's luxury board includes an extensive Tyrolean breakfast, sweet or savoury afternoon snacks and a varied five-course dinner. Weekly highlights include an Italian appetiser buffet, gala dinner, fondue night and Austrian cake and pastry buffet.
The PleasureLounge offers wine and olive oil tastings, prosciuttos, breads and spreads, tomatoes, olives and balsamic vinegar and an outstanding vinothèque with fine wines from Austria and Italy, including an interesting selection of above standard-size bottles. Private dining is also available for one table per night, in which a glorious roast shoulder of free-range Fassona beef is carved at the table and dressed with sea salt and olive oil.
The spectacular new Gipfel SPA on the fourth floor takes Hotel Tirol guests a little closer to heaven with wonderful views from the rooftop terrace and a state-of-the-art heated infinity pool. After days outdoors, enjoy the views from the new stone-pine bio sauna. Soothe aching muscles in the new oak-panelled Finnish sauna, Kneipp therapy pool, infrared cabin, steam room and massage and relaxation rooms. Take in the views of surrounding mountain peaks while relaxing over a drink at the new Sky Table on the rooftop terrace.
The tranquil relaxation garden and new Family Spa with a textile sauna, steam room and chillout area is situated at ground floor level.
Private dining in the PleasureLounge is an experience you must try! You're indulged with a roast shoulder of free-range Fassona beef which is carved at your table and dressed with sea salt and olive oil. It's tender and full of natural flavour and only one of these private dinners is available each night.
Cigar lovers! The hotel has a humidor for guests' own tobacco products

The Fisser Leabala flatbread is baked from a family recipe, handed down for generations

The Serfaus-Fiss-Ladis holiday region offers plenty of family-friendly activities in winter and summer

Something to read – sitting out on your balcony with the fresh mountain air and a good book is utter bliss

Swimwear – you're on holiday, you must take time to relax in the Gipfel SPA
The family-friendly Serfaus-Fiss-Ladis holiday region offers plenty of fun and activities throughout the year.
In winter, guests benefit from excellent ski schools, Bertas Kinderland, Serfaus Kinderschneealm and Serfaus Murmlipark.
In summer, guests receive a Super. Summer. Card. and benefit from free use of cable cars, daily hikers' buses, childcare and entertainment, guided hikes in Serfaus-Fiss-Ladis, and access to the following attractions: Summer Funpark Fiss, Adventure World Serfaus, Adventure Park Hög and Thomas C Brezina's Adventure Mountains.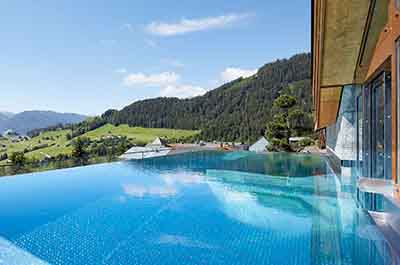 Culinary events & tastings
Tobogganing & Snowshoeing
FIND HOTEL TIROL
Situated in the village of Fiss at 1,400m altitude, in Tyrol's premier holiday region of Serfaus-Fiss-Ladis. Innsbruck airport is a 1-hour drive.