| | |
| --- | --- |
| Country | Austria |
| Area | Reith, Tyrol |
| Property | Hotel Pirchner Hof & Farm |
| Segment | Health, Spa, Wellbeing |
| Style | Tyrolean country with contemporary touches |
THE FIRST DEDICATED HILDEGARD VON BINGEN HOTEL –
FOR HOLISTIC HEALING WITH PROFESSIONAL GUIDANCE
THE STORY
You are drawn to the Pirchner Hof & Farm and the teachings of Hildegard von Bingen, particularly their maxim 'nurture life wherever you find it'. From the moment of arrival you are enveloped in tranquillity, and feel truly nurtured. You're so far away from the hustle and bustle of everyday life; the beauty of nature enchants you.
The day begins with a generous breakfast buffet; you try the hot porridge, in the tradition of Hildegard von Bingen. The activities on offer are varied and exciting, so you've planned a day of new experiences, starting with 'smovey'. Guided by Wolfgang Peer, you swing the smovey back and forth and feel the tingle of the vibrations. After one session, you're reaping the rewards and sneak off for a little siesta!
The pool invites. You dive in; as you glide up and down the length of the pool your troubles float away like little bubbles. You retire to a lounger with positive thoughts about finally finishing a book. An energising tea complements your rest and you feel nurtured, calm and utterly content.
After a nutritious dinner based upon Hildegard von Bingen's teachings, you take the opportunity to learn something new in the Health House. A lecture on herbalism is about to start so you wander over, learn some tips and tricks regarding local herbs and how to use them, and leave with that satisfaction reserved for learning new things.
WINNER
Austrian Quality Seal for Hiking certified
Pirchner Hof & Farm amongst 'Best Spas in the World' – Condé Nast Traveller Spa Guide 2013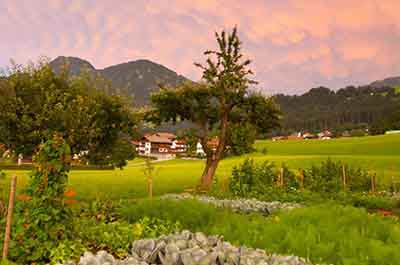 DISCOVER PIRCHNER HOF & FARM

Morning meditation in the Life Energy Garden

A few laps of the outdoor pool with its splendid views

Delicious, super-healthy Hildegard breakfast

Guided Nordic Walking excursion in the mountains

'Smovey' sessions in the swimming pool

Discovering the secrets of the Alpbachtal

Yoga and exercise at the Health House

Sweet chestnut bath and copper bristle brush massage at the spa

Evening stroll around romantic Lake Dorfsee

Tasty four-course dinner in the restaurant
The 76 rooms and suites at the Pirchner Hof & Farm are all furnished in an Alpine style with modern facilities. Every room has its own balcony with stunning views toward the Inn valley and over the Kitzbühel and Zillertal Alps. The rooms are spread across the main building and the charming country house.

Expect healthy, wholesome cuisine in tune with the seasons – many dishes are based upon the teachings of Hildegard von Bingen. Most of the ingredients are sourced from local organic food producers or from the hotel's own farm. The farm also supplies Tyrolean yearling, a versatile premium meat from young cattle, characterised by its excellent quality.
The Pirchner Hof & Farm extended half board includes an ample breakfast buffet in the tradition of Hildegard von Bingen, a healthy afternoon snack buffet, fresh fruit in the Health & Spa area, tea bar with Grander water, and a four-course dinner.
Health and wellbeing are of vital importance at the Pirchner Hof & Farm. Their holistic spa concept combines knowledge of nature's powers with an appreciation of human beings as a unity of body, soul and spirit. Spa treatments and health programmes help guests to detox, stimulate their metabolism, reduce stress and fortify their spirit.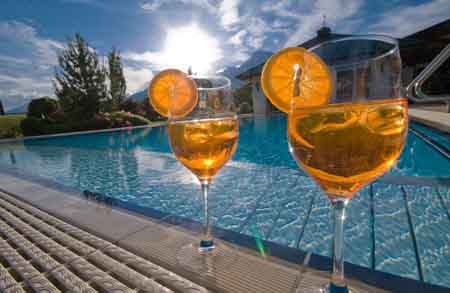 Wolfgang Peer runs an extensive exercise and activity programme which includes back exercises, ZEN fitness, foot fitness, Aqua Fit, 'smovey', Pilates and Zumba.
Indoor pool (12x6m) with relaxation area, year-round heated outdoor pool (14x7m) with direct hotel access, gym, sauna landscape with Finnish and bio saunas, steam room, infrared cabin, Hydro-Jet and relaxation area with waterbeds. Large garden with natural bio pond, barefoot path and Kneipp circuit, Hildegard von Bingen herb garden, 'power spots' based on the four elements. Spa for beauty treatments, body packs, baths, massages, Hildegard von Bingen packages, Health House.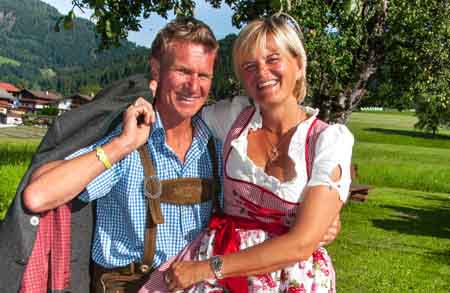 Christa and Wolfgang Peer are both qualified walking guides and would love to help you choose the perfect walking route.
Holistic healing with the teachings of Hildegard von Bingen

Exercise and activity programme with a professional fitness instructor

Talks about herbalism, healthy cooking and exercise

Food from the hotel's own garden and farm

Beautiful Life Energy Garden

Fasting weeks, detox and Hildegard packages
Walking boots in the summer – explore the region's most scenic spots in comfort

Ski gear in the winter – the Ski Jewel Alpbachtal Wildschönau is just waiting to be conquered

Something to read – enjoy the peace and quiet in the Life Energy Garden with a good book

Swimwear – an early morning dip in the outdoor pool is the perfect way to start your day

The Pirchner Hof & Farm hotel is the ideal base for your healthy family holiday. With family rooms and suites there's plenty of space to relax together and healthy tasty meals will delight even the fussiest of eaters.
The Alpbach Valley is extremely family-friendly and perfect for holidays with kids. In the summer, the Juppi Kids' Club offers young guests a free programme of activities. In winter, the Ski Jewel Alpbachtal Wildschönau benefits from local ski schools and family-friendly pistes.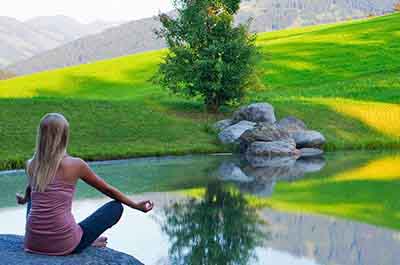 FIND PIRCHNER HOF & FARM
Located in the Tyrolean Alpbach Valley on the outskirts of Reith village at 540m altitude, Innsbruck is a 1 hour drive away and Munich 1 hour 20 minutes. Kufstein rail station is a 20 minute drive.