The best herbal recipes
A world of flavoursome goodness!
Food is the basis of life. It can and should taste wonderful. But it also can and should be of benefit. Sometimes we can achieve this with the simplest of ingredients, and they needn't be expensive.
There are a few points to consider when cooking with herbs: cooking time, storage and application. Many herbs don't like heat so shouldn't be cooked with the other ingredients, and others need a little time to release their flavour. For example, 'soft herbs' like parsley and chives develop their taste very quickly when cooked, so shouldn't be added until the end. 'Hard herbs' on the other hand like Rosemary and Thyme need up to 10 minutes to fully develop their flavour. On the whole, very fine herbs like dill and chervil shouldn't be cooked at all.
Taste is the main factor when deciding how to use them. 'Less is more' is a good philosophy. Some herbs – like tarragon – have a very intense flavour, particularly when dried.
Try out some of the Park Igls health retreat's Modern Mayr herbal recipes brimming with natural goodness.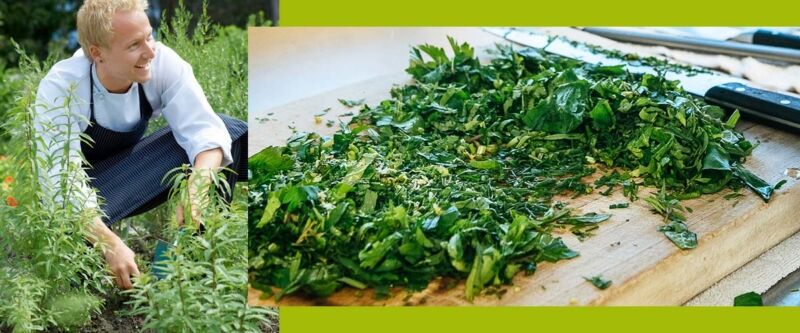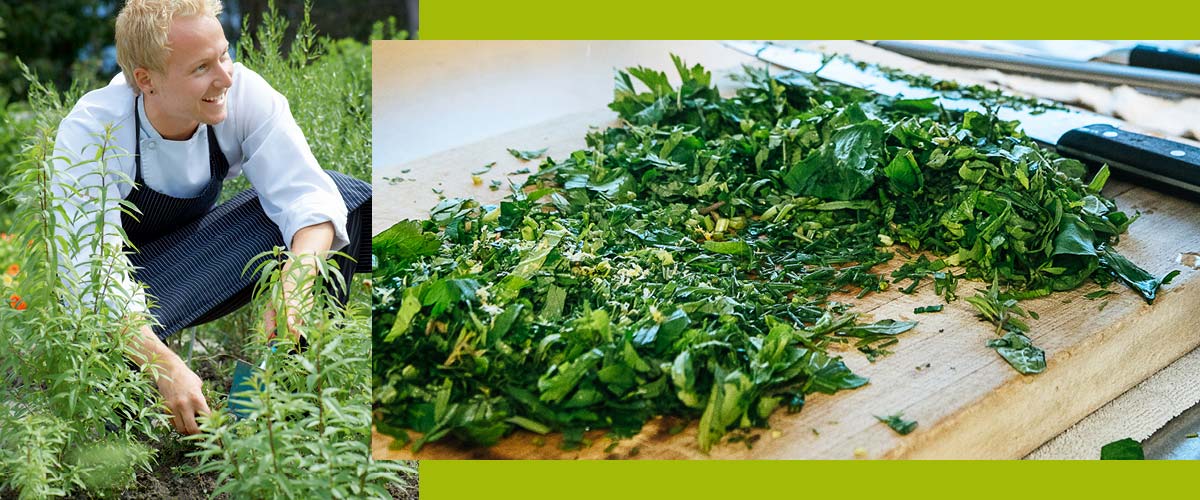 Wild salmon cooked on a bed of lemon and herbs recipe
700g wild salmon, filleted and deboned by the fishmonger
2 large organic lemons
1 stalk lemon grass, crushed
Herbs: savory, thyme, basil, shiso leaves, verbena, dill etc.
Fleur de Sel
Black pepper
Olive oil
125ml white wine, base broth or water
Slice the salmon into pieces around 2cm thick and marinate with the lemon zest. Thinly slice the lemons and arrange on a porcelain plate. Add the lemon grass and whichever herbs you have chosen and arrange them along with the fish. Season with salt, pepper and olive oil. Cover the whole plate in clingfilm, making sure it's airtight, and poach in white wine or base broth for around 10–12 minutes in an oven preheated to 90°C.
Note: Savory has a strong, bitter taste with a slightly pungent note and should therefore be used sparingly. Winter savory has a more intense flavour than summer savory. Don't add it in too late when cooking.
Medi-tip: The plant helps to prevent bloating. Tea made from fresh or dried savory has an antispasmodic effect and is a remedy for diarrhoea.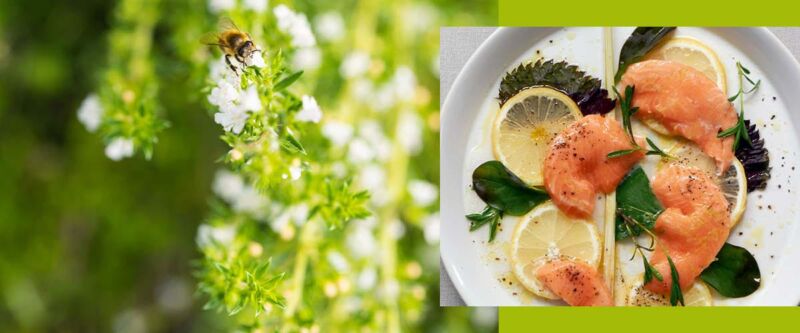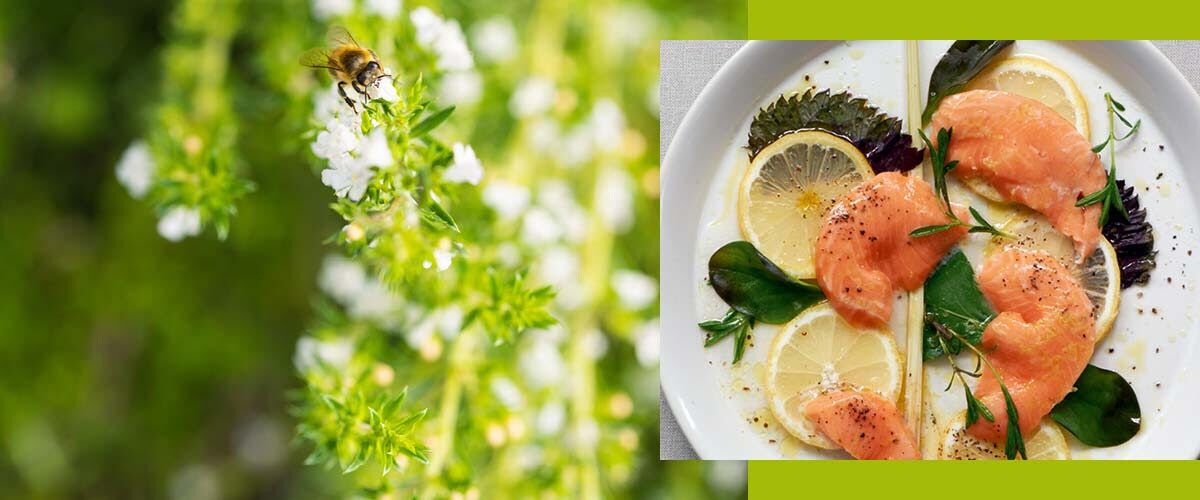 Monkfish in a coconut and herb soup recipe
700g monkfish tail
Fleur de Sel
Sesame oil for frying
Juice of 2 limes
20ml Noilly Prat
500ml base broth
250ml unsweetened coconut milk
1/2 chilli pepper
1 stalk lemon grass
Verbena
Ground coriander
1 red pepper
Lightly salt the monkfish and brown it in sesame oil in a large saucepan. Once it has taken on a nice colour, marinate it in lime juice and take it out of the pan. Deglaze with Noilly Prat, pour in the base broth and coconut milk and add the deseeded half chilli as well as the lightly crushed lemon grass stalk. Add herbs to taste and leave to rest at a low heat for around 10 minutes. Wash and deseed the pepper and cut it into diamond-shaped pieces of about 2cm. Cut the fish into slices around 4cm thick. Once the 10 minutes are up, leave the fish and pepper to draw in the stock for another 4–5 minutes. Serve the fish in a deep bowl with the soup.
Medi-tip: Verbena isn't a kitchen staple but is used in cooking for good reason: the bitter-tasting compounds in this herb, which has a pleasant, lemony fragrance, stimulate the production of saliva and gastric juices. It is purported to be a diuretic, to stimulate bile flow and have an anti-rheumatic effect. Verbena helps the liver to cleanse itself. Verbena tea strengthens, helps to reduce fever and has a healing effect.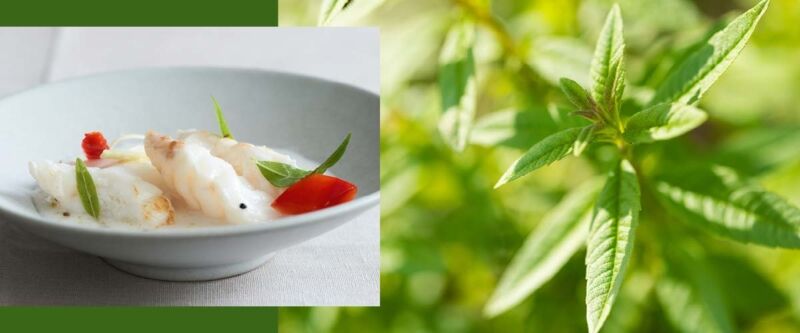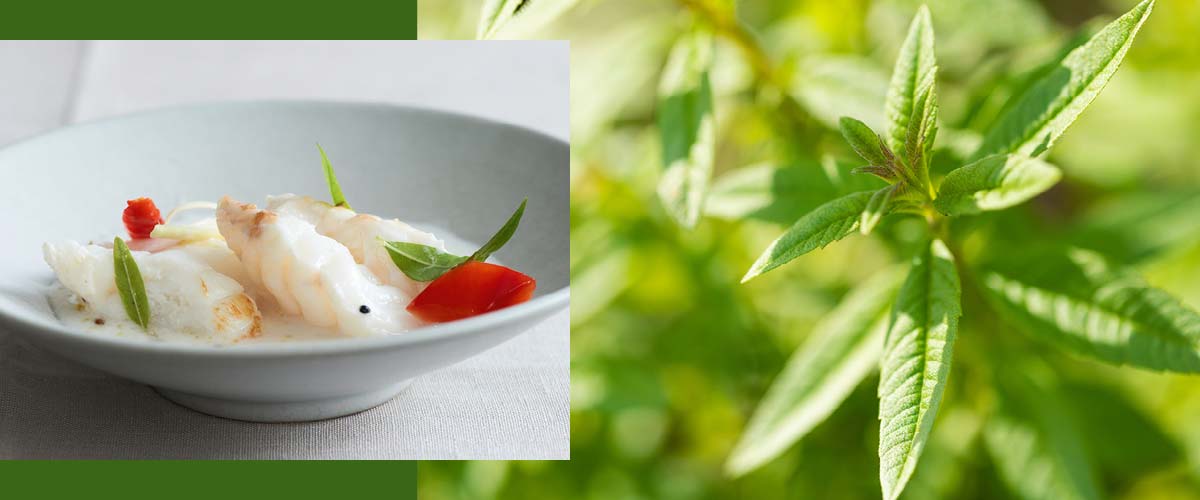 Braised chicory with savory and sage recipe
950g chicory
Oil for frying
5g butter
Freshly ground rock salt
1 tbsp maple syrup
20ml lemon or raspberry vinegar
1 sprig of savory
2 large sage leaves, sliced
Crushed or roughly ground pepper, coriander seeds and mustard seeds
Juice of ½ lime
Slice the chicory in half and cut out the stalk. In an ovenproof, non-stick pan, fry the chicory in a little oil until golden brown on all sides. Add flakes of butter, salt and maple syrup, and allow to caramelise slightly. When the chicory turns glossy, deglaze with the vinegar. Place in a fan oven preheated to 150°C and cook for another 10 minutes or so. Sprinkle with the herbs and ground spices before serving. Toss the chicory, sprinkle with lime juice and serve while still hot.
Note: Sage has a bitter note and pleasant piquancy. But be careful: dried sage is stronger than fresh sage and can be bitter and soapy.
Medi-tip: Sage tea encourages the body to digest fatty and oily foods. As with most herbs, sage flowers are also edible and can add wonderful flavour to a dish.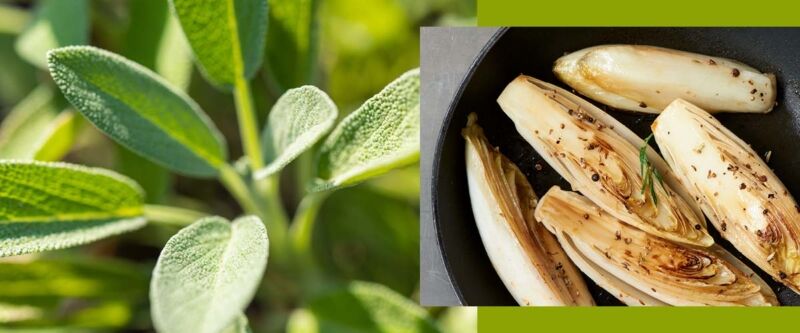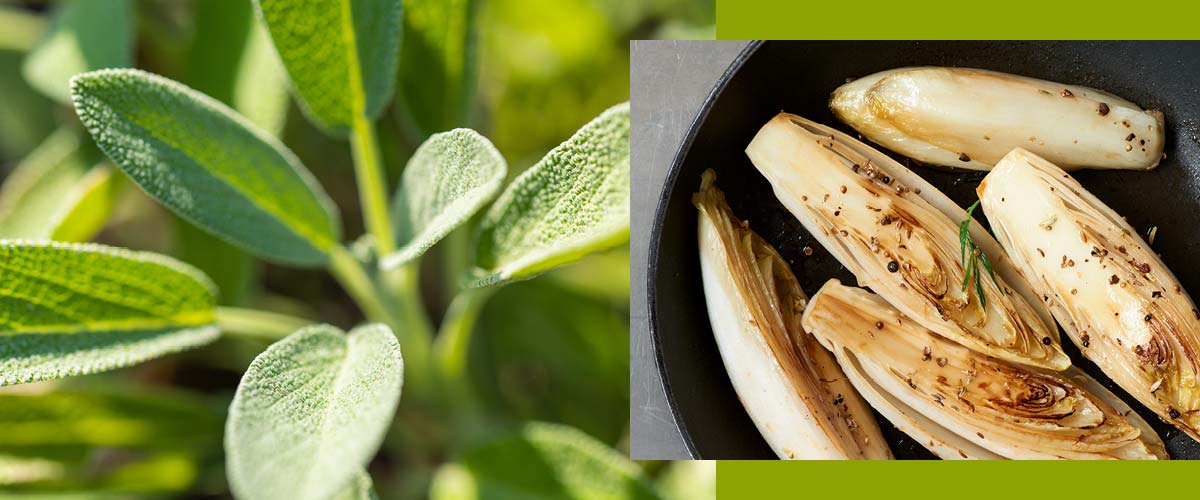 If this story has got you interested in starting your journey with Niche Destinations, please enquire here.
A WORLD OF STORIES
If this story has got you interested in starting your journey with Niche Destinations, please enquire here.
A WORLD OF STORIES