BELGIUM
LANAKEN, FLANDERS
DOMAINE LA BUTTE AUX BOIS
| | |
| --- | --- |
| Experience | A day in a Michelin-starred kitchen |
| Segment | Tastemakers |
| Rating | 5-star superior |
Behind the scenes at La Source
An exclusive 2-Michelin-starred restaurant under a 5-star superior roof: it's the only 7-star hotel-restaurant combo in Belgium to date. A high standard to live up to, but this only motivates head chef Ralf Berendsen and his team all the more at Restaurant La Source in Domaine La Butte aux Bois in Lanaken. The gourmet restaurant is one of Belgium's top 40 restaurants where the award-winning chef serves the finest haute cuisine creations using fresh, quality ingredients. Situated in an historic country estate and surrounded by the verdant woodland of the Hoge Kempen National Park, the gourmet hotspot offers a special experience… let's take a peek behind the scenes and watch the kitchen team at work!
A day in a Michelin-starred kitchen
A typical day in Restaurant La Source runs to a tight schedule – every step is meticulously planned. Early each morning, the cleaning team takes over the kitchen, preparing the room from floor to ceiling before the culinary elite arrive. At 12pm the kitchen team gathers round for a briefing with head chef Ralf Berendsen – the first guests will arrive at 7.30pm. The day's deliveries arrive between 12pm and 1pm. These are weighed and inspected for quality and freshness.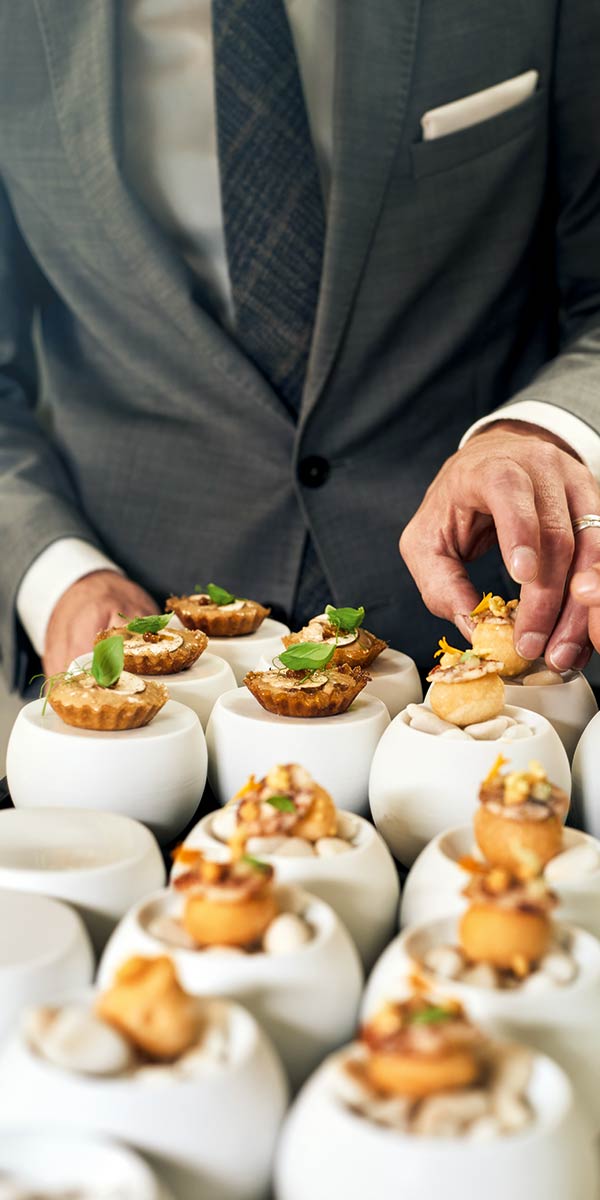 Ralf Berendsen:
'We work only with the best-quality produce on the market. Of course that comes at a price, but there is no compromise when it comes to quality and freshness. With fish, I inspect the eyes, gills and firmness. Then with meat, it's the degree of maturity that matters. It's got to be tender, succulent and firm. Fruit and vegetables I practically inspect with a magnifying glass. Fruit must be ripe with no visible defects and, moreover, it has to smell good. Finally, I make sure that all produce works well together – after all it is going to be served on one plate.'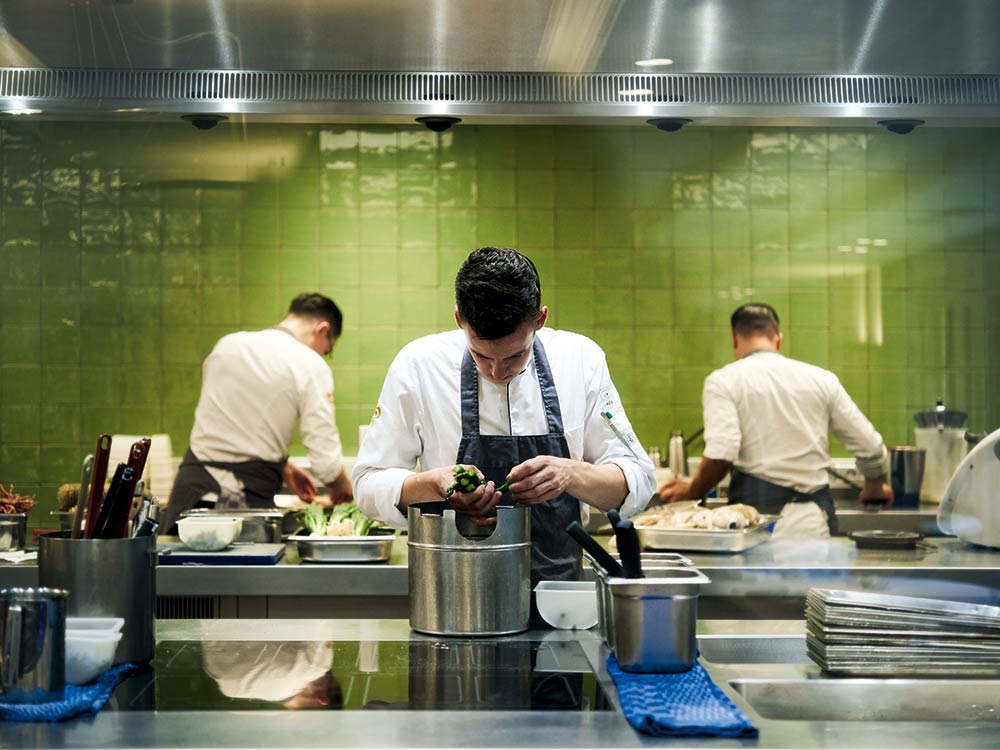 Yes, chef!
Between 4pm and 5pm things calm down in the La Source kitchen while the team takes a break. They meet in the kitchen's new lounge area to grab a bite to eat and chill out before it all kicks off at 5pm. Then, tension mounts as the team works quickly and precisely to prepare, concentrating intently and hardly uttering a word. The chef's instructions are answered by a swift nod and executed immediately. Every movement is made under his watchful eye. Not a single plate leaves the kitchen without his approval. 'I trust my team completely, but the ultimate responsibility lies with me. So I check every plate before it reaches the table. Then, if something does go wrong, nobody else can be held accountable.'
Kitchen and service: a team effort
From 7pm they wait for the first guests to arrive. The Maître and his team greet the guests, take their orders, ask about any allergies or personal preferences and find out how much time the guests have to enjoy their meal – an important detail for the rhythm of the kitchen.
Ralf Berendsen: 'In a Michelin-starred restaurant, we take the expression 'prepared à la minute' literally – often even seconds matter. Kitchen and service therefore have to work together like a well-oiled machine – there is no time to make mistakes. If there is a mishap, our staff have enough experience and creativity to come up with a solution promptly and keep the customers happy. We take every comment or complaint very seriously. The customer is always right, that is not up for discussion.'
The chefs hang up their aprons between 11pm and 11.30pm. The team can finally relax as they sit down together and review the evening, discuss operations and any opportunities for improvement, and look at the bookings as they plan the next day. At midnight a successful day comes to an end. Tired but content, the staff say goodnight and go home.
All in a day's work
Ralf Berendsen: 'Of course we are well paid for our work. But the guests' appreciation is just as important to us. It is their recognition that motivates us to give our best every day. In a 2-Michelin-starred restaurant everything simply has to be perfect, from beginning to end. Our guests visit award-winning restaurants regularly – their expectations are high, and rightly so. I often joke with my staff that our work is on trial every day and is judged by a jury of experts. That includes not only what is on the plate, but also their experience with the server and the presentation of their meal. Every little element plays an important role, from the restaurant décor and atmosphere to the quality of the porcelain, cutlery and glassware.'


La Source's state-of-the-art kitchen – this is what chefs' dreams are made of.
Workstations
The stainless steel kitchen is made up of different workstations, each with its own specific function in the preparation process and manned by one or two chefs. Each chef knows their workstation inside out and everything they need is close at hand, so time is saved and concentration is not interrupted.

Easy to clean and user-friendly
Berendsen's idea of the perfect award-winning kitchen was one that's easy to clean and user-friendly, so this one is both. Every knife, fork and spoon has its place.
Innovative equipment
The kitchen was supplied by Rosval, a major kitchen supplier and renowned family company with more than 30 years of experience in top gastronomy and leaders in the area of innovative catering equipment. All of the equipment is high-tech, more compact and more efficient than ever before whilst being economical and sustainable to use.

Increased efficiency
The kitchen allows lots of routine tasks to be carried out quickly and easily by fewer people, which gives more time for inspecting quality and plating up. Overall, work is more efficient, quality increases, and personnel costs decrease, which in turn makes the management happy. It's a win-win for everyone.
Photo credits: Domaine La Butte aux Bois, Hugo Thomassen