Riad Fès
| | |
| --- | --- |
| Country | Morocco |
| Area | Fez |
| Property | Riad Fès |
| Segment | City break, Cool culture |
| Style | The real Morocco at its most luxurious |
| | |
| --- | --- |
| Member of Relais & Châteaux | |
The real Morocco, Fassi style – palatial perfection in fascinating Fez
THE STORY
Tucked away in the heart of Morocco's oldest and most fascinating city, Riad Fès offers an irresistible taste of the real Morocco at its most luxurious. This enchanting old palace has been meticulously restored in authentic Fassi style to make a blissful haven amid the hubbub of Fez's labyrinthine medina, a UNESCO World Heritage Site. The elegant Moorish architecture, sumptuous furnishings and traditional artifacts create an exotic ambience worthy of The Arabian Nights. Relax by the pool or in the beautiful hammam at Spa Riad Fès by Cinq Mondes Maroc. Enjoy a feast for all the senses at Restaurant Gayza. From the rooftop terrace, look out over the medina towards the Atlas Mountains, while the muezzin's hypnotic call to prayer fills the evening air. Succumb to the rich magic of Morocco's history, culture and ancient civilisation. For business or pleasure, Riad Fès is a must.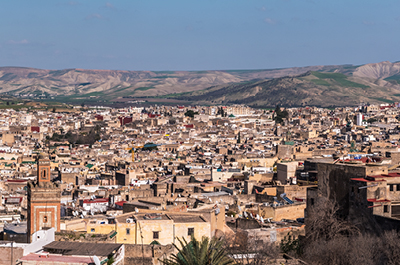 WINNER
One of Morocco's sexiest hotels (Forbes Traveller)
One of the Best Luxury Hotels in the World (TripAdvisor's Traveller's Choice Awards)
World Luxury Hotel Awards 2016 Winner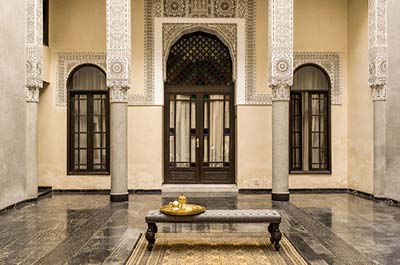 Discover Riad Fès

10 lengths of the pool as the sun rises and the muezzin calls; an inspiring start to the day

Quick shower, floppy hat on, book in hand: a breakfast of fresh juices, fruits and natural yoghurt, a Baghrir pancake with honey-butter syrup

Chef rendezvous: a magical mystery tour of the medina to buy fresh produce

Learn to create gorgeous spiced salads, classic lamb tagine and couscous and – my favourite – Sellou

Enjoy a lunch of my creations – the best part of any cookery class

Book time beside the pool, with a dip and a Moroccan mint tea

Find sanctuary at the Spa Riad Fès by Cinq Mondes for their ritual hammam experience before heading to the roof-top terrace for Yoga

Freshen up and head to the roof-top terrace for a Champagne cocktail at sundown

Down to Riad Fès's exquisite Gayza for a gourmet dinner before it's time for sweet dreams …

Of the 31 rooms and suites at the palatial Relais & Châteaux property in the medina at Fez, no two are alike, although an artful interplay of tradition and modernism is a common thread across four themes: Moroccan, Oriental, Baroque and the Fassi signature. All are en suite and equipped with LCD TV, minibar and Wi-Fi. The Royal Suite's private terrace commands a view of the Atlas Mountains while those of the four Ambassador Suites overlook the riad's enchanting Andalusian and Baroque courtyards.
The dazzling colours of Morocco's rich palette of spices, fruit and vegetables combine with succulent meat and fresh fish to thrill the palate with subtle flavours in Restaurant Gayza at Riad Fès. The chef presents an exciting selection of Moroccan and continental dishes, prepared with flair and a sprinkling of Riad Fès magic. After a day spent exploring the ancient city, absorbing its history and heady ambience, there's nowhere better to sample the country's rich culinary heritage.
Restaurant Gayza seats up to 70 in three discrete dining spaces: strong colours and evocative Moorish décor create a peaceful and intimate atmosphere. Other options include a relaxing lunch by the pool, a tête à tête dinner on the roof terrace, or among the fronds and fountains of one of the charming garden courtyards.
Gayza – Le Bar beside by the pool and the Andalusian court is just the place for a Moroccan mint tea or a flute of Champagne with local titbits. The sommelier will also be happy to organise a Moroccan wine tasting – a real eye-opener! At sundown, get in the mood with an aperitif at the Rooftop Bar. À votre santé!

A highlight at the dreamy Spa Riad Fès by Cinq Mondes is its traditional hammam cabins; an ancient Moroccan ritual for perfect relaxation. Christophe Pillet's faultless design creates a seamless marriage of space and seclusion, enhanced by intelligent use of natural light, organic colours and soothing views of the lush poolside greenery. Cinq Mondes' natural oils and plant extracts, and nourishing marocMaroc beauty products ensure a beautiful sensory journey.

Come in June. The weather is perfect for enjoying the Cherry Festival at Sefrou. Add a trip to the fascinating troglodyte houses at Bhalil

Moroccan mystique, Islamic culture and pure hedonistic pleasure
Large sun hat and swimming togs. Mirror sunglasses for inscrutable bargaining. Comfortable shoes for exploring
Galleries, museums, madrasas
FIND Riad Fès
Located within the medina of Fez, in the north east of Morocco. 17km to Fez International Airport, 3 hours by car from Casablanca.