AUSTRIA
Hinterthiersee, Tyrol
Ayurveda Resort Sonnhof
| | |
| --- | --- |
| Package | Panchakarma 'Light' by a single therapist |
| Country | Austria |
| Area | Hinterthiersee, Tyrol |
| Property | Ayurveda Resort Sonnhof |
| Style | 'Tyrol meets India' design concept |
| Segment | Wellbeing |
| | |
| --- | --- |
| Member of Healing Hotels of the World | |
| 4-star | |
Panchakarma in the Alps
Benefit from Indian medical expertise with a Panchakarma detox for health, beauty, equilibrium and new quality of life. Idyllically located in the Tyrolean Alps, 4-star Ayurveda Resort Sonnhof offers European Ayurveda® and a range of authentic Panchakarma treatments and programmes varying in length between 7, 10, 14 or 21 nights. This Ayurveda classic is known as the 'queen' of Ayurvedic cures – following treatment guests discover the achievement of a profound level of wellbeing and regeneration.
Panchakarma's cleansing treatment rids the body of toxins to regain metabolic balance, resulting in de-stressing, deep regeneration and a new sense of harmony. You'll begin with a pulse diagnosis by Ayurvedic specialist Gaurav Sharma. Panchakarma has two phases: in the initial phase toxins are loosened with the help of Ayurvedic pure butter ghee. The second phase includes full Panchakarma board, 11 tailored Ayurvedic treatments, complemented by Yoga, meditation and use of the AyurvedaCentre.

Authentic Ayurveda without the long-haul flight

European Ayurvedic cuisine – fresh, regional, seasonal

AyurvedaCentre with 'Dosha' saunas

Programme of Yoga and meditation

Variety of detox and Panchakarma cures

Panchakarma 'Light'
7 nights, 6 treatment days, excl accommodation

Consultation & pulse diagnosis

Nutrition and lifestyle coaching

Snehana – administration of ghee to loosen waste products

Virechana – day of purification

 Treatments tailored to suit your personal medical history, e.g.:

• 3 Abhyanga – Ayurvedic full body oil massages
• Udvartana – herbal powder massage
• Jambira Pinda Sveda – bag massage or Garshan – silk glove massage
• Udanavata© – special abdominal massage
• Nasya or Akshi Tarpana – nasal or eye treatment
• Shirodhara flowing oil treatment
• Basti – gentle enema
• Upana – Himalayan salt & oil scrub to release stressful energy and strengthen the immune system
• Shiromardana – head & face massage

Swedana – heat therapy

Hot water & ginger drinking treatment

 Herbs for the duration of your stay

Weekly programme of Yoga & meditation

Use of the AyurvedaCentre

Full Panchakarma board (included in room rate)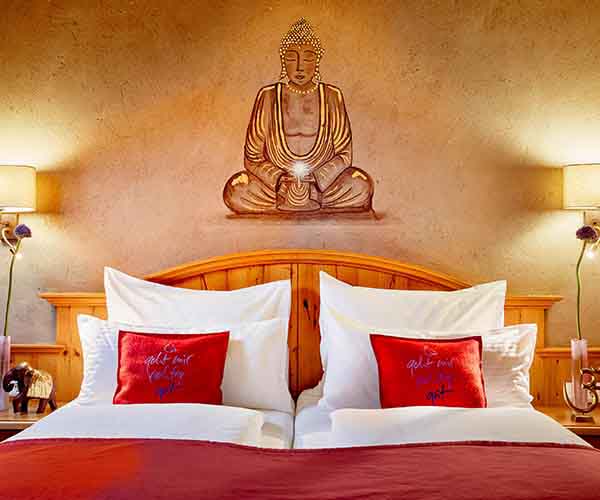 Ayurveda – this ancient holistic philosophy can be found in the Austrian Alps! Ayurveda Resort Sonnhof is a place of harmony, where an expert, dedicated team offer European Ayurveda® in a beautifully serene Tyrolean mountain setting. The retreat offers 30 rooms and suites, an AyurvedaCentre with sauna and steam landscape, energy garden, Spirit Lounge and restaurants. Supervised medical Ayurvedic breaks are designed to assist guests on their own personal journey to wellbeing and reconnection with their true self, based on Ayurveda's three pillars of health: Ayurvedic Nutrition, Yoga, and Diagnosis & Treatment.