PRESS RELEASE | June 2018
90 years of the Singer Sporthotel & SPA
Three generations, one success story
This year, the Singer Sporthotel & SPA in Berwang in the Tyrolean Zugspitz Arena celebrates an unusual anniversary. The hotel, 1,336m above sea level on the sunny Berwang plateau, has now passed through three generations of the Singer family. The 90th birthday of the 4-star superior hotel will be marked by a series of celebrations this summer. Of course, this will not just mark 90 years of business, but also a 90-year-old tradition of Tyrolean hospitality, gastronomic delights and wellbeing.
The 'modern, sunlit Alpine hotel'
The story began with a 'modern, sunlit Alpine hotel' with 30 rooms built by Hans Singer Jr. and his wife Irma, the grandparents of current hotel owner Florian Singer. They soon constructed a second, smaller building next to the hotel. Under the direction of Günter Singer and his wife Gerti, the Alpine hotel was transformed into a supremely comfortable establishment offering elegance and Tyrolean style. In 1978, the addition of a traditional Tyrolean pitched roof gave the hotel a fresh look and enabled a fourth floor to be built at the same time. 2005 saw the most significant development since 1928, when the 'Sporthotel Singer' was transformed into the Singer Sporthotel & SPA.
Third-generation family business
The third generation, Florian Singer and his wife Christina, is now successfully carrying on the family business. Florian Singer and his team have an overriding passion for their guests' wellbeing. The Relais & Châteaux hotel may have a long history, but it always keeps pace with the times. Last year saw the start of their '2017-2019' project, which is both ambitious and visionary: a major extension, the renovation of numerous rooms and the expansion of the SPA area are just the latest steps in the hotel's success story.  The plans include a further 12 rooms will be renovated and a heated whirlpool will be added to the SPA.
Wellness on three floors
The hotel has a 1,800sqm, self-contained, three-storey SPA building. The SPA is surrounded by an impressive 10,000sqm Alpine Relaxation Garden, where guests can experience wellness and nature in perfect harmony. Highlights include the year-round heated outdoor pool, spacious indoor pool, and relaxation rooms with fireplaces and waterbeds. The views through the large picture windows are as inspiring as the SPA where a holistic wellness experience awaits.
A gourmet hub
The Singer Sporthotel & SPA is also a hotspot for gourmets. In 2018, the Tiroler Stube restaurant received one Gault&Millau toque (14 points), 2 forks in the Falstaff Restaurant Guide (88 points) and 2 stars, 72 points and 1 wine bottle in the A la Carte gourmet guide. An impressive wine list with an exceptional selection of rare Bordeaux wines inspires connoisseurs and discoverers alike. Sommelier Thomas Wilhelm Rückhörmann is always on hand to offer advice.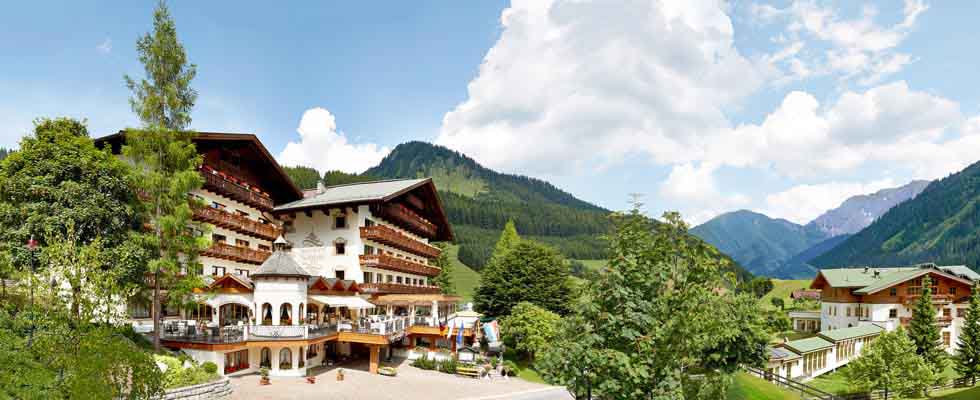 Comfort, charm and breathtaking views
Local wood, high-quality materials and charming décor characterise the spacious interiors. The hideaway's 54 elegant Alpine-style rooms and suites offer stunning views of the surrounding mountains. The rooms, suites and apartments provide personal retreats characterised by stylish elegance and the unmistakable charm of Tyrolean architecture.
Anniversary programme
To mark 90 years of the Singer Sporthotel & SPA, the Singer family has organised a programme of celebrations for guests between 24 June and 1 July 2018. These include an excursion to Highline 179 with medieval knights reenactment, a kitchen party with award-winning chef Thomas Kunath, a guided walk at sunrise and a grand celebration dinner that will take guests on a culinary journey through time.
niche destinations is a travellers' kaleidoscope for distinctive places with attitude, owned and managed by like-minded independent individuals, proud of their heritage and assertive about their future.

niche destinations promotes pioneering health retreats, must-go gourmet restaurants, quirky Alpine lodges & hideaways, ski nirvana, mountain Spa paradise, a mysterious encounter with Atlantic Morocco, hidden gems of local art & culture and the glorious beauty of nature.

niche Destinations is a discovery of the unexpected, a sense of place, responsible & sustainable tourism, relaxed surroundings, understated elegance and generosity as a mind-set.