AUSTRIA
Igls, Tyrol
Park Igls
| | |
| --- | --- |
| Package | kybun®@Mayr |
| Country | Austria |
| Area | Igls, Tyrol |
| Property | Park Igls |
| Style | Sophisticated, modern, comfortable health retreat |
| Segment | Wellbeing |
| | |
| --- | --- |
| 4-star | |
| Member of International Association of Mayr Doctors | |
Stabilise joints with kybun®
Stabilise your joints and stimulate healing with a kybun® wellness break at the 4-star Park Igls Mayr clinic and medi spa, surrounded by the beautiful mountains of the Tyrolean Alps. kybun® involves walking on soft mats known as kyBounders, which require you to keep your balance with every step you take. These small movements target deep muscle groups, helping to improve your posture and balance, relax the back muscles, increase concentration and intensify leg vein activity.
Perfect your kybun® technique with one-to-one training sessions in the panoramic gym, fully-equipped with a kyBounder course and innovative kyTrainer treadmills. You can also try out kyBoots – revolutionary comfort shoes with 'walk on air' soles. With award-winning spa facilities, a spectacular swimming pool and tailored Modern Mayr cuisine featuring deliciously light and healthy dishes, the Park Igls is a perfect place to relax, enjoy the natural world and recharge run-down batteries.

Individual health consultation

Exercise classes and panoramic gym

Use of swimming pool, sauna and spa

Personal Modern Mayr cuisine diet plan

kybun®@Mayr
Valid until 15 December 2018
2 one-to-one kybun® lessons (50 mins each)

5 partial body massages (25 mins each)

1 liver compress with beeswax
from €1,968 (Price per person for 1 week sharing a Standard double room)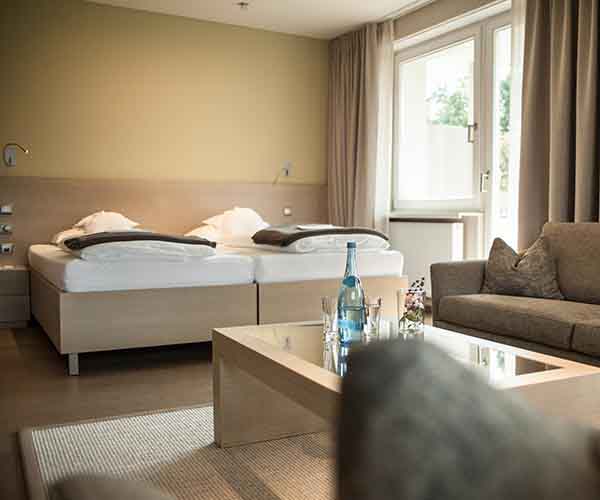 Park Igls is one of the leading health retreats in Europe, offering personalised exercise, nutrition and state-of-the-art diagnostics based on Modern Mayr Medicine. A respite for body, mind and spirit, the Park Igls is set in a large park on the outskirts of the charming village of Igls in Austria. Its 51 restful, elegant rooms and suites come with stunning panoramic mountain views. Relax in the spa with its spectacular indoor pool with hydrotherapy section, saunas, Kneipp circuit and treatment rooms. Benefit from tailored Mayr treatments and dine on alkaline, light and beautifully prepared Modern Mayr cuisine using organic and regional foods.